About the Performance
Disassembly takes place in the not-too-distant future where an authoritarian regime threatens to censor our communication and the internet as a whole.  This multi-media concert by saxophonist, composer and now multi-media artist, Feralcat, highlights cutscenes from his original pixel art-based sci-fi/fantasy video game. The music and the game's story focus on themes of racial identity, oppression, nostalgia and boundless love.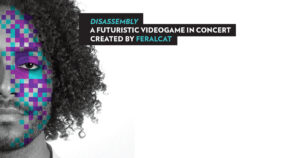 Feralcat is an artist, saxophonist, composer, and producer who yearns for a paradigm shift away from the superficial, superfluous canon that currently exists for the saxophone. His contributions to the musical zeitgeist are largely influenced by growing up in a bi-cultural environment (Latinx & American) as a biracial person.
Accessibility Accommodations



For more information on accessible seating or assistive listening devices please contact Phoebe Orr at phoebe@newhazletttheater.org.
Visiting the Theater