Visit the New Hazlett Theater in Pittsburgh's Northside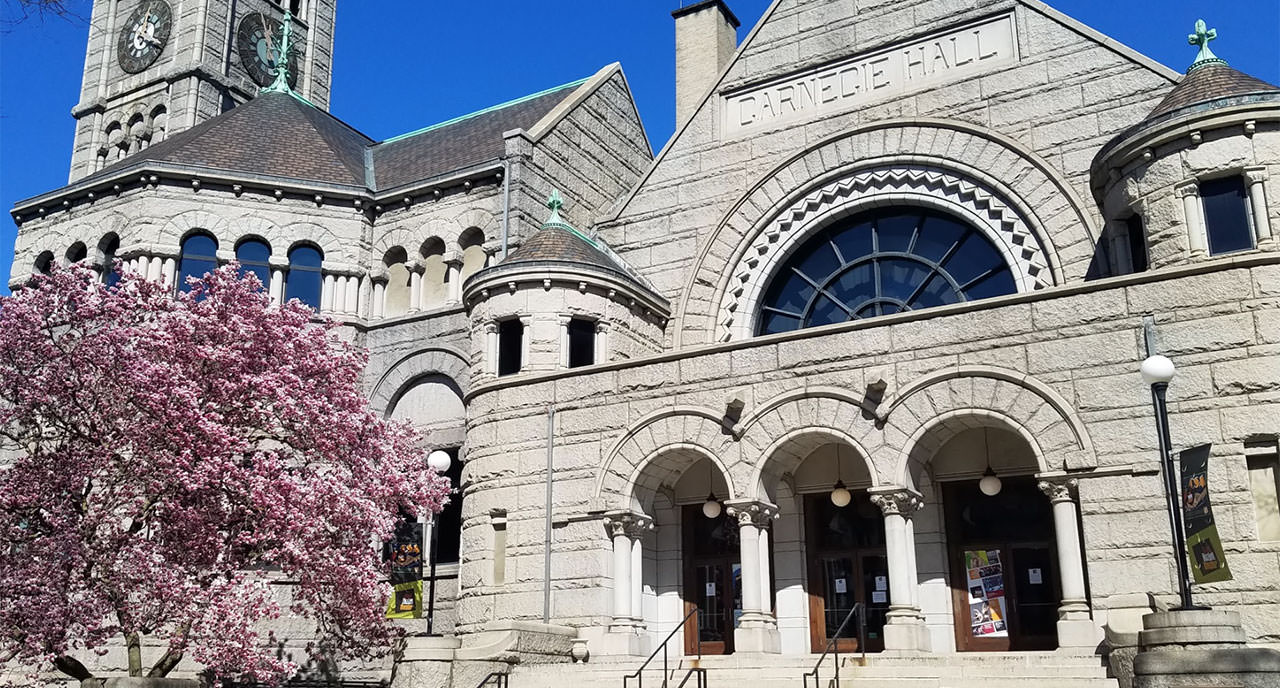 Directions
From Downtown Pittsburgh
Cross the 7th Street Bridge
7th Street Bridge becomes Sandusky Street
Sandusky Street becomes E. Commons/Allegheny Center
From Airport and West
Take 279 North to Pittsburgh
At downtown, take Ft. Duquesne Bridge
Follow signs for 279 North, stay in far right lanes
Exit at Rt 28 N/Chestnut Street/E. Ohio Street Exit
Stay to the left and immediately exit at E. Ohio Street Exit
At first stoplight, turn left onto E. Ohio Street
Continue 4 blocks through the business district; continue straight at stoplight
At next stoplight, turn gradual right into traffic circle at East Commons and take immediate left into Allegheny Square East
From Monroeville (Turnpike exit #6), Oakland, Squirrel Hill
Take 279 North to Pittsburgh
At downtown, take Ft. Duquesne Bridge
Follow signs for 279 North, stay in far right lanes
Exit at Rt 28 N/Chestnut Street/E. Ohio Street Exit
Stay to the left and immediately exit at E. Ohio Street Exit
At first stoplight, turn left onto E. Ohio Street
Continue 4 blocks through the business district; continue straight at stoplight
At next stoplight, turn gradual right into traffic circle at East Commons and take immediate left into Allegheny Square East
From points North
279 South to Downtown
Exit at East Street Exit
Continue straight through 2 stoplights; at 3rd stoplight turn right onto E. Ohio Street
Continue 4 blocks through the business district; continue straight at stoplight
At next stoplight, turn gradual right into traffic circle at East Commons and take immediate left into Allegheny Square East
Transportation
Public Transportation
Multiple bus routes service our location. Please visit the Google Transit website for the most current schedule or visit Port Authority for specific directions from your location. Multiple bus routes travel to the Northside. Tiramisu Transit app tracks various bus routes to the Northside and is available for most mobile devices. Service to the North Shore on Port Authority's light rail system, commonly known as the "T", is free at all times. For T service schedule to the North Shore, visit TPlus.org. From the T you'll need to walk east through the underpass to Allegheny Center.
Bike
There are multiple locations around the Theater where bikers can secure their bikes safely. We recommend locking your bikes along the side entrance of the Theater near the handicap ramp, not near the front steps. Bike Pittsburgh offers a variety of maps to find the best bike route to the Theater.
Taxi
Taxis frequent the Northside of Pittsburgh. Yellow Cab 412-321-8100, Peoples Cab 412-441-5343, Checker Cab 412-664-5600 and Classy Cab 412-322-5080 are available 24 hours, seven days a week.
Parking

Thanks to a generous partnership with Allegheny Health Network, our patrons have access to a garage right in front of the theater for evening events and weekend matinees!
AHN Parking Garage | Available to New Hazlett Patrons on Specific Show Dates
To find the garage:
Drive past the theater and follow Allegheny Square East as if you were going back out onto East Commons
The Allegheny Health Network garage will be on your left
NOTE: The lot will close one hour after the show
Security
For various events, security is on site to direct you to available parking options. Parking for sporting events impact space available near the Theater. Please check your local listings to see if the Theater's event conflicts with our local sports teams.
On-street parking
On-street parking is available at no cost after 6pm, Monday-Saturday and all day Sunday. Paid parking is available in the Allegheny Health Network garage for evening events and weekend matinees.
Accessibility
The New Hazlett Center for the Performing Arts is committed to making all events at the theater as inclusive as possible. We continually evaluate our environment and our staff to make enhancements so all patrons enjoy a welcoming, inclusive experience.
The New Hazlett Theater offers a limited number of handicapped parking spaces. On the east side of the building, you will find a wheelchair accessible ramp that will take you into the lobby.  A level pathway will take you from the lobby into the theater. For seating, multiple spaces in the front row of our seating banks can accommodate wheelchairs and companions.
Questions
If you would like more information, have any questions, or would like to discuss special arrangements, please call 412-320-4610.
ALD services can be made available with 48 hours prior notice.
Our Community

There are numerous unique dining options nearby in the Theater's Northside neighborhood. From the eclectic four-restaurant concept at Federal Galley, to authentic Asian cuisine at Nicky's Thai Kitchen or a savory traditional German meal at Max's Allegheny Tavern. From fresh, handmade pasta at cozy Legends of the North Shore, to fine dining at Siempre Algo, to wood-fired specialties at Fig & Ash or quick bites in the quaint tavern atmosphere Monterey Pub.
Please note that some restaurants may remain closed or are limiting orders to takeout. Physical capacity may also be limited at others due to restrictions and safety measures.  For current updates, please check with each establishment.

The closest park to the Theater is Buhl Community Park at Allegheny Square, a revitalized community resource for Pittsburgh's Northside, sits at the former crossroads of Federal Street and Ohio Street in front of the Children's Museum. Pittsburgh's oldest park, Allegheny Commons, dates to 1867 when it was designed to provide "breathing places" for the citizens of what was then the sooty city of Allegheny. The Northside is also home to Pittsburgh's 4th largest municipal park, Riverview Park. This is a densely wooded and hilly park with walking trails and horseback riding just minutes from the city.