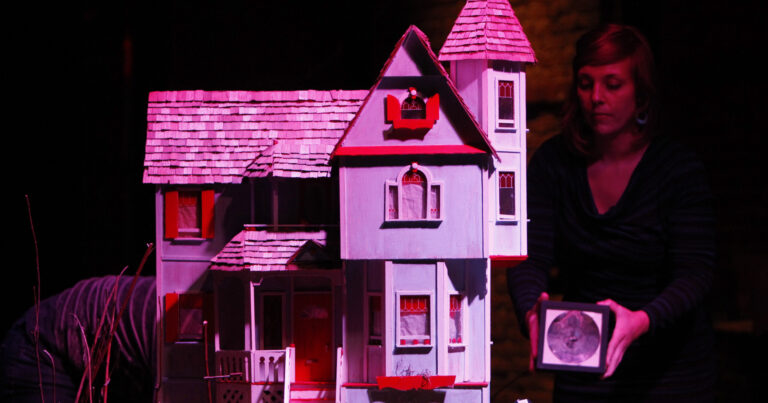 Dr. Douglas Irene is here to present his lecture entitled, Birds of America, A Brief description of the Birds of America, created by Dr. Douglas Irene. Please do not confuse this with a similarly titled body of work by a certain Audubon, for this lecture is filled with anecdotes and photographs of birds from Dr. Irene's personal collection. Don't mind the woman in the photos. That's merely Margaret, Dr. Douglas Irene's wife. Douglas and Margaret used to live in a house at the top of a lonely cliff against the soundtrack of a raging sea. Despite their distance from the rest of the world, Margaret never could escape the watchful eye of those birds of America. Poor Margaret.
Cameras soar through miniature scenery and frightful dreamscapes of Birds of America as Miniature Curiosa takes us on a multimedia exploration into scale and suspense.
Miniature Curiosa
When working together, Zach Dorn and Murphi Cook operate under the title Miniature Curiosa. Miniature Curiosa explores the underbelly of childhood nostalgia with the disappointed eyes of adulthood. Through low-fi technology, puppetry, and non-linear storytelling, Miniature Curiosa presents fast-moving, fast-talking (sometimes malfunctioning) live action comic books. Their most recent spectacle, Tonight A Clown Will Travel Time premiered at FE Gallery this February and embark upon its maiden voyage across America this summer. Other works have included The Luna Park Project, an excavation into Pittsburgh's lost electric wonderland, and Puppet Photo Booth, a traveling puppet show disguised as a photobooth. These projects have received funding from The Pittsburgh Downtown Partnership, The Pittsburgh Foundation, The Sprout Fund, and Awesome Pittsburgh.
Learn more about Miniature Curiosa on their website.
Funding for Birds of America was also provided by the Robert C. Smith Fund and the Betsy R. Clark Fund of The Pittsburgh Foundation.
Acknowledgments
Photography: Renee Rosensteel; Video: Jeremy Fleishman