CSA Spotlight: Miniature Curiosa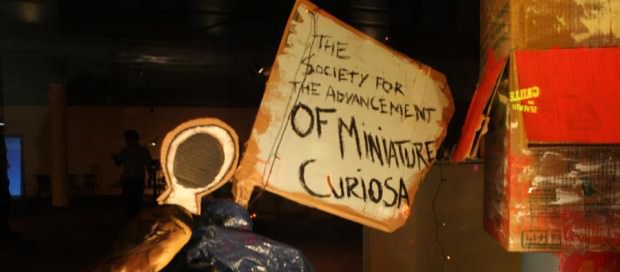 Zach Dorn and Murphi Cook — the whimsically idiosyncratic duo that make up Miniature Curiosa — explore the underbelly of childhood nostalgia with, as Zach and Murphi put it, "The disappointed eyes of adulthood."  Miniature Curiosa uses a combination of real-time camera work, hand-crafted miniature set pieces, and live performance to create a fast-moving, fast-talking (sometimes malfunctioning) live action comic book.
"This is not theatre," they say.  "This is the living room of an overzealous magician who doesn't know any tricks."
Currently on the road touring their most recent spectacle, Tonight A Clown Will Travel Time, Zach and Murphi will be stopping in 15 different cities this summer, but they'll be back in Pittsburgh come October for the New Hazlett's CSA Series.
In Birds of America, Zach and Murphi's cameras soar through miniature scenery, doll houses, and frightful dreamscapes to create a kind of Hitchcockian nightmare of Rosemary's Baby proportions.
Check out Miniature Curiosa's website for tour dates and information, and explore their Facebook page for updates and the occasional live-streaming puppet show like this one: