Playwright Jasmine Roth Plants a Metaphysical Cactus Garden on the New Hazlett Stage this March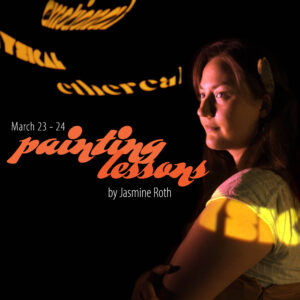 (Pittsburgh, PA) March 3, 2023 –  New Hazlett Theater is proud to present playwright Jasmine Roth's Painting Lessons this March 23rd and 24th.  Written and directed by Jasmine Roth, this powerful production examines one person's efforts to reconnect with a lost love at a metaphysical meeting space. Painting Lessons is the fourth production of the 2022/2023 season of Community Supported Art (CSA), which provides emerging artists with the opportunity to develop new work for the New Hazlett stage.
"We are honored to present this poignant play," says Executive Director René Conrad. 
Painting Lessons has three shows: Thursday, March 23rd at 8 PM and Friday, March 24th at 11 AM & 8 PM. Individual tickets and season subscriptions are available for purchase on the New Hazlett website. Individual tickets are available, and range from $20–$30.
In Painting Lessons, Roth's character J struggles to accept her father's death and their unresolved relationship. Hoping to hold on to one more minute with him, J dives into a metaphysical cactus garden where she meets her dad for the painting lessons and conversations they never got to have. While Painting Lessons was born from Roth's own personal experiences, they value the grief others may identify with.
"There's been such a gift in working on this – hearing other people's stories and having them be excited to go there with me," says Roth. "I hope that, while parts of it are so personal, there's also a universality. I hope that audiences can take space for their own healing or their own needs as part of the experience of watching this play."
The talented cast includes Abbie Siecinski (J) and John Dolphin (Dad). Rebekah Hukill, Catherine Baird and Greyson Taylor join as ensemble. Wendy Kuhn is dramaturg.
While Painting Lessons is is an exploration of grief and healing, there's also an ethereal element which sets the tone for audiences.
"It's pretty dreamy, I would say. We stop in time, and go into a little limbo between time and space as a plot point. It does have some traditional play scene structure, but it ebbs and flows into a more surreal space at times," Roth states. 
Painting Lessons premieres Thursday, March 23, live onstage at the New Hazlett Theater. Read the most updated safety guidelines on the New Hazlett website. Accessible seating and assistive listening devices are available for all productions.
The New Hazlett's mission is to create dynamic art through innovation and collaboration. We provide vital resources to creators from diverse backgrounds to enrich our cultural community. To learn more about upcoming events at the New Hazlett Theater, visit newhazletttheater.org.
Painting Lessons is presented as a part of the New Hazlett Theater's 10th Season of CSA, brought to you by Green Light Wireless.