Vida Chai Kicks Off New Hazlett's 10th Season with All-New Immersive Concert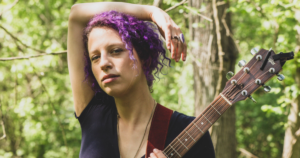 (Pittsburgh, PA) August 9, 2022— Singer/songwriter Vida Chai kicks off the New Hazlett Theater's 10th Season with Somewhere Strange, an all-new album in concert. Composed in the desert of 2020, this eclectic performance features an all-star band that seamlessly blends folk-Americana, jazz, and rock. This immersive concert uses music, dance, and storytelling to explore the complexity of isolation and companionship during an evolutionary time. This production is part of the Theater's 10th season of Community Supported Art (CSA), which provides emerging artists with the opportunity to develop new work for the New Hazlett stage.
"Thanks to the generosity of Heinz Endowments, the New Hazlett is able to provide more support than ever before to our CSA artists," says Director of Programming Kristin Helfrich. "Chai's danceable folk-rock concert will be complemented by choreography from Pittsburgh newcomer Kaila Carter under the direction of multi-disciplined and incredibly talented Lindsay Goranson. We're looking forward to this highly collaborative performance to kick off our 10th anniversary season."
Vida Chai (Lead Artist, Vocals. Guitar) is a singer-songwriter and multi-instrumentalist committed to brutally honest storytelling. Vida's influences range from Joni Mitchell to Esperanza Spalding, blending acoustic-folk and neosoul to challenge and inspire listeners. They use their voice to speak difficult truths and help create more understanding and space for queer people.
Kaila Carter (Choreographer) began her dancing at a young age and went on to continue at Duke Ellington School of the Arts where she majored in dance. Kaila is an alumna of Butler University, where she graduated in May of 2019. While pursuing her degree, her work was featured on European stages. After graduation, Kaila joined Ballethnic Dance Company for two seasons. Kaila is currently a Company Artist with Confluence Ballet Company.
Lindsay Goranson (Director) is a multi-discipline artist, puppet maker, art director, and costume designer. Her work includes new, experimental, and immersive theatre, installation art, music videos, and film. She aspires to minimize the environmental impact of these fields and engage audiences in conversations about societal change. lindsaygoranson.com.
Somewhere Strange has three showings only: Thursday, October 13th at 8 PM and Friday, October 14th at 11 AM & 8 PM. Individual tickets and season subscriptions are available for purchase on the New Hazlett website. Tickets range from $19–$29 and 5-show subscriptions are $110. The Friday matinee on October 14th  is free to the public as part of RADical Days. Registration is recommended. 
Vida Chai may have been in quarantine when they wrote Somewhere Strange, but the album's premiere is bringing their hard-to-beat band back together. Joining Chai on stage is Donnie Bell (Guitar), Dan Miller (Upright Bass), Ryan Socrates (Percussion) along with Kelsey Robinson and Treasure Treasure doubling as vocalists and dancers. Each member of the group is incredibly versatile – something Chai values since their style incorporates multiple genres including folk-Americana, rock, 90s pop, and jazz. 
"Before I was a musician, I was a writer of poetry and fiction, and I think that at heart, I have always been a storyteller," says Chai. "I've been performing as a musician for 10 years and have been longing for the space and resources to create a show as a full theatrical performance."
As a selected artist for CSA Season 10 artist, Chai will have exactly that. Through the CSA Performance Series, New Hazlett Theater provides mentorship, support, space, and resources for artists to produce a full-scale production. Vida plans to use this opportunity to create a unique and immersive concert experience, combining music and dance with captivating lighting and an atmospheric set.
"I want to immerse the audience in the performance as much as possible," continues Chai. "I want to address them directly and welcome them into the story."
Somewhere Strange premieres Thursday, October 13, live onstage at the New Hazlett Theater. Read the most updated safety guidelines on the New Hazlett website.  Accessible seating and assistive listening devices are available for all productions. Please email Phoebe Orr with any questions.
###
Download High Res Images for Press
Meet the Band
Kelsey Robinson (Vocals/Dance) is a Pittsburghreared performance artist who performs and teaches with Quantum Theatre (Inside Passage, Looking for Violeta, Lyon's Den) Bricolage Production Company (DODO, The Forest…, The Clearing) and is a founding member of FolkLab. She is the recipient of an Opportunity Fund grant, a Kelly Strayhorn Theater residency and Cultural Trust spotlight for Talking with Ghosts About Freedom which unearths regional Black and Indigenous histories while crossing state lines on her bicycle.
Treasure Treasure (Vocals/Dance) is an artist and multi-instrumentalist working in music, comedy, film, and visual art. Theatre credits include Cabaret (Emcee, Hangar Theatre,) This Ain't No Disco (Atlantic Theater Company,) Agnus Teaches Acting, an original comedy special (The Duplex,) Fiddler on the Roof (CLO).  She made her Broadway debut in the revival of Annie Get Your Gun.  She holds a BFA from the Carnegie Mellon School of Drama. Her original musical score for Shakespeare's The Tempest was first produced by Southwest Shakespeare Company in Arizona and her debut EP, Hypnerotomachia, is available on all platforms.
Ryan Socrates (Percussion) is a percussionist, drummer, and producer. Notable achievements include playing for the Henry Mancini Institute in LA, recording and touring with rising singer/songwriter Joy Ike, and co-leading his group Trio+. Locally, he is an in-demand live and session drummer with Pittsburgh acts and singer-songwriters like the Jazz Conspiracy, Bindley Hardware Co, and Quantum Theater. Ryan has lectured and led ensembles at Slippery Rock University, Duquesne University, and the PA Governor's School for the Arts.
Dan Miller (Upright Bass)  is a bassist/cellist native to Pittsburgh, PA. He studied music at Edinboro and Duquesne Universities and has been performing regularly with local orchestras, musical theater, folk, bluegrass, jazz, and rock groups for the past 20 years. Currently, Dan can be found performing with The Washington PA Symphony Orchestra, folk trio The Lost Causes, and rock groups Flock of Walri and Erika June and the Tunes.