REVIEW: The Mind-Body Problem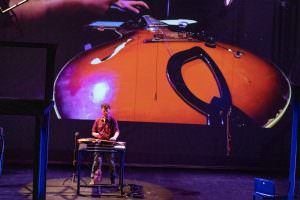 Continuing Recital's sponsored partnership with the New Hazlett Theater, we are presenting a series of editorially-independent previews and reviews of the 2019–2020 Community Supported Art (CSA) Performance Series. Below is our review of Terminer by Philip Wesley Gates, a collaborative response from Recital editor David Bernabo and guest panelists Jason Baldinger, Emma Vescio, and Samir Gangwani. Read their bios at the end of the review. And read our preview of the performance here.
Review: Subverting Our Robot Overlords! Gil Teixeira Finds a Balance with Technology
By David Bernabo
Check the e-mail. Click the link. Register. "You're almost in." Maximize the window. There! The empty stage, a thing of beauty after these many months of self-imposed isolation, these months of watching artists performing in their bedrooms from the comfort of our own bedrooms. The anticipation for the professionally-staged virtual performance isn't quite the same as sitting in the theater, surrounded by other eager viewers, but it is palpable, especially for this performance, which draws inspiration from one of the most esoteric dilemmas in human existence.
Gil Teixeira's The Mind-Body Problem continues the delayed seventh season of New Hazlett Theater's CSA program by providing surprising clarity to a minefield-like issue — our relationship with technology.
Photography by Renee Rosensteel