REVIEW: The Dragon of Polish Hill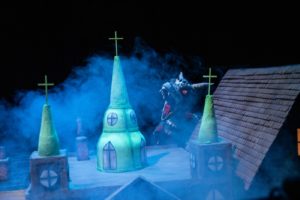 Continuing Recital's sponsored partnership with the New Hazlett Theater, we are presenting a series of editorially-independent previews and reviews of the 2019–2020 Community Supported Art (CSA) Performance Series. Below is our review of The Dragon of Polish Hill by Dave English and Will Schutze, a collaborative response from Recital editor David Bernabo and guest panelists Jason Baldinger, NaTasha Thompson, and Ariel Xiu. Read their bios at the end of the review. And read our preview of the performance here. (Full disclosure: After the postponement of the original production of The Dragon of Polish Hill, Dave English and I collaborated on video piece advocating for the Carnegie Museum workers' efforts to form a union. English also performed in my band Watererer's release show video.)
Review: The Dragon of Polish Hill Ascends!
Dave English and Will Schutze turn their puppet performance into a film.
By David Bernabo
In The Dragon of Polish Hill, puppeteers Dave English and Will Schutze reconstruct the Pittsburgh neighborhood of Polish Hill, fill it with characters, and offer viewers a fantastical story of half-remembered history, culture clashes, and unexpected friendships. Leaning into the limitations forced on theater performances during the COVID-19 pandemic, their intended puppet play is transformed into a film where multiple camera angles allow for a closer look at the beautifully-rendered puppets and their magically lifelike movements. The production team retain a rawness, a Pittsburgh-ness, if you will, to the film that matches the charmingly handmade look of the set designs. While the plotline is relatively linear and predictable, the work, like the neighborhood it reconstructs, is complex, pulling weighty topics like cancel culture, casual racism, gentrification, and commercial exploitation into its quick-witted, playful realm.
Photography by Renee Rosensteel