Rapper Ys1 Sets Fire to the New Hazlett Stage in February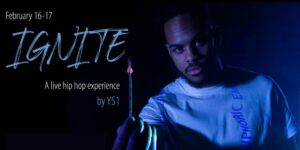 (Pittsburgh, PA) January 12, 2023— Hip hop artist Ys1 (Yusef Shelton Da First) sets fire to the New Hazlett stage with IGNITE, an all-new hip hop experience. This autobiographical concert shows how faith, intention, and staying true to yourself can break the cycle of fear and help overcome adversity. IGNITE is the third production in the Theater's 10th season of Community Supported Art (CSA), which provides emerging artists with the opportunity to develop new work for the New Hazlett stage.
"We are delighted to be presenting this highly motivational and collaborative production," says Director of Programming Kristin Helfrich. "Ys1 is a force for good in Pittsburgh. The New Hazlett is proud to partner with him to tell his story, spread positivity, and amplify underrepresented voices in our community.
IGNITE  has three showings only: Thursday, February 16th at 8 PM and Friday, February 17th at 11 AM & 8 PM. Individual tickets and season subscriptions are available for purchase on the New Hazlett website. Tickets range from $20–$30 and 3-show subscriptions are $60.
"The main thing I hope that people take away from this show is inspiration," says Ys1. "I want young people to see somebody who came from the inner city and who's now producing high-quality music with a positive message. I hope it helps them see that there are broader options for them."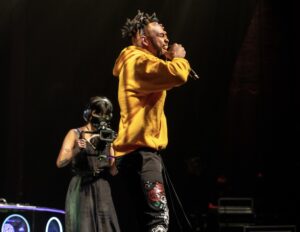 Photo courtesy of Ys1
In addition to Ys1's inspiring message, original music, and refreshing authenticity, he has assembled a team of multitalented artists to bring this production to the next level. The band will include Drew Bayura (keyboard), RJ Williams (drums), and Tomi Adebayo (violin) as well as vocals by Dejah Monea, Aris Ross, and Stacia Vonn. The production will also feature choreography by Kontara Morphis and dance by Rickia Davenport.
"Something that's different about this show compared with what I've done in the past is that it's not just me rapping," Ys1 continues. "It's not just a concert. We have an awesome team that is creating a whole experience – come ready to be moved!"
IGNITE premieres Thursday, February 16, live onstage at the New Hazlett Theater. Read the most updated safety guidelines on the New Hazlett website. Accessible seating and assistive listening devices are available for all productions. Please email Phoebe Orr with any questions.
The New Hazlett's mission is to create dynamic art through innovation and collaboration. We provide vital resources to creators from diverse backgrounds to enrich our cultural community. To learn more about upcoming events at the New Hazlett Theater, visit newhazletttheater.org.
IGNITE is presented as a part of the New Hazlett Theater's 10th Season of CSA, brought to you by Green Light Wireless.
###
Meet the Team
YS1 (Creator/Lead Artist) is a Homewood-born-and-bred hip-hop artist and a true family man. From humble beginnings without parental guidance, Yusef overcame his circumstances and transformed his pain into purpose. Yusef found identity in his faith and raps to ignite purpose in the hearts of young Black men, giving them the tools to be authentic.
Drew Bayura (Music Director) is a Pittsburgh native vocalist, multi-instrumentalist, and music producer. His work spans a wide range of musical styles and focuses on creating social harmony through sound. He explores the relation of voice, sound, and rhythm and their effects on the electrical mental/emotional self complex, in order to empower the voices of the people he loves in his community.
Kontara Morphis (Choreographer) is the Artistic Director of K-Theatre Dance Complex, a Dance Academy that provides quality dance instruction in several major areas of dance. Kontara has choreographed works for The Kelly Strayhorn Theater, The Dance Alloy, Propel Schools, Pittsburgh Public Schools, Alpha Kappa Alpha Sorority, Incorporated, The University of Dayton, Wright State University, and more.