PREVIEW: The Revolution of Evelyn Serrano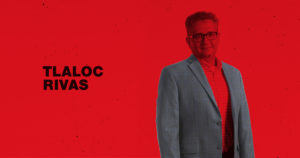 An Interview with Tlaloc Rivas about "The Revolution of Evelyn Serrano"

By David Bernabo

To close the eighth season of the New Hazlett Theater's CSA series, Tlaloc Rivas will present a workshop version of his play The Revolution of Evelyn Serrano, based on Sonia Manzano's 2012 novel of the same name.

There are three performances on June 10 and 11. Get your tickets here.

In The Revolution of Evelyn Serrano, young Evelyn is keeping two secrets from her family — her true feelings about growing up in Spanish Harlem, and her attitude about Abuela, her larger-than-life grandmother who's come from Puerto Rico to live with them. Then as sudden as an earthquake, events erupt that change everything: the Young Lords, a Puerto Rican activist group, ignite garbage fires to protest the city's failure to provide basic sanitation and other services to their neighborhood. This revolutionary act brings a new spirit of pride and resistance. Evelyn learns important truths about her Latinx identity, and the history-makers who shaped the Nuyorican identity forever.

Check out our interview with Tlaloc below! [This interview has been lightly edited for clarity.]

David Bernabo: I saw that The Revolution of Evelyn Serrano is being presented as a workshop. Can you explain what that means for the upcoming virtual performances at New Hazlett Theater?

Tlaloc Rivas: This is the second iteration of this play. In a way it's less of an adaptation and more of a "based on." When I first developed what I'm going to call the first version — a true to the original source adaptation — we did a presentation that had 24 actors. I knew that nobody would want to produce a show with 24 actors, but it was a way for me to figure out what the heart of the story was. One of the great things that came out of that was that Sonia Manzano [author of the book The Revolution of Evelyn Serrano], who went to Carnegie Mellon in the 60s, came to the reading and gave me really incredible feedback. But the most important piece of it was, you don't have to do everything that's in the book. Do your version of this book. So, I preceded to do that.

In the midst of that and getting accepted in the CSA, COVID happened. As an artist, I do appreciate limitations. I had to think of a conceit to not only workshop the play, but also present it. I gave myself the challenge of writing essentially a new play from what I remembered from the book. I did not look at the novel or my previous draft. I just wrote what felt most important to me. That's what we have right now.

In addition to that, the conceit was also to have seven actors play all the different roles of the characters in the book. So, what you are going to see is a very paired down, very different take from the source material, with the addition of original songs that speak to a time where protest music from the Civil Rights Movement would also play a part in what we are calling the evolution of Evelyn's social consciousness in a world that is divided by race and class.

The reason it is a workshop is because it is the first time that I'll be seeing this piece fully realized as a writer and director. I have no interest in directing it beyond this. I really want to see other folks put their creative vision behind it, because that's the fun of being a writer. You get to see different versions of it.

DB: Given your rewrite of the original version, what's the synopsis of the current version?

TR: Evelyn Serrano, a young Puerto Rican girl is trying to forge her identity when her grandmother from Puerto Rico arrives and brings her very progressive and revolutionary ideas to the forefront of her consciousness. Evelyn's mother, who is very conservative and apolitical, wants Evelyn to lead a life that will provide for their family. Enter the Young Lords — this is a Puerto Rican version of the Black Panthers — who emerged in 1969 to raise consciousness of the Puerto Rican people and to fight for social services that they're not getting in East Harlem, which included healthcare, nutritional services, education, housing, and other services like testing children for lead poisoning and tuberculosis.

They took on confrontational tactics. New York City Sanitation was not picking up their garbage regularly, so they organized a garbage offensive. They took all the trash that hadn't been collected in the past month, put it in the middle of Lexington Avenue, and set it on fire. So, that got the attention of everybody.

The play really centers on Evelyn, who is part of a congregation where the Young Lords take over a church to start their breakfast programs and nutritional services. They occupied a church in East Harlem for two weeks, and the play takes place in memory and in the present as Evelyn recounts her time being with the Young Lords and how she was influenced by them.