PREVIEW: The Dragon of Polish Hill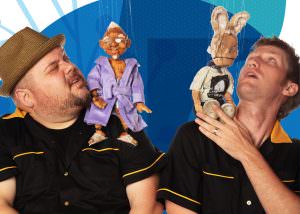 Recital continues our partnership with the New Hazlett Theater by publishing a preview and an editorially-independent review for the five performances in the 2019–20 CSA Performance Series season.
Throughout the season, Recital is meeting with each of the artists to bring you a brief profile of them and their work in the days before their opening performance. We will publish a considered review for each performance, developed from post-show discussions with a consistent panel of local experts in related disciplines.
"The Dragon of Polish Hill" Descends Upon the North Side
Puppeteer Dave English tells a tale of generational divide and eventual understanding
by David Bernabo
---
I meet puppeteer Dave English at Kaibur, the coffee shop in Polish Hill, where unbeknownst to me, we begin to act out one of the pivotal scenes in his new play, The Dragon of Polish Hill. In conducting my interview with English, I parallel the role of a Pittsburgh City Paper arts writer interviewing Willy James, a new-to-Pittsburgh hotshot artist. Willy James is a rabbit-eared puppet in a world of puppets, transforming the hip factor of his last known address in Austin, TX to a City Paper cover. Unlike Willy James, who says things like "I'm not a poet, but I am poetic" and "I don't really like to think of myself as in a category," English is gracious and humble in detailing the plot of the play, the immense input and inspiration coming from his collaborators, and the path that led him to the New Hazlett Theater's stage.
The Dragon of Polish Hill premieres on March 26 with a second performance on March 27. It's the fourth performance in the seventh year of the New Hazlett Theater's CSA series. And it's the biggest stage that English has occupied so far.
Stanley Onion is the oldest man in Polish Hill. He is 115 years old and has dementia. He wanders out of St. Ursula's Assisted Living, a fictionalized version of John Paul Plaza, the high-rise in Polish Hill that looms over Kaibur Coffee. He walks down to the coffee shop, thinking that it is a butcher shop — "in his mind, it still is." He gets irritated when he can't order cuts of meat — "everything is vegan here, bro." Willy James is still being interviewed by the City Paper writer, but soon winds up in an altercation with Stanley Onion. Onion goes down.
"Instead of the City Paper cover story being about what an awesome artist Willy James is," says English, "it's about what an asshole he is, how this hipster knocked down the oldest man in Polish Hill."
Social media blows up, and Willy James is "cancelled." Willy James goes to court. The judge awards him 90 days of community service at St. Ursula's, taking care of Stanley Onion. Onion tells James about his life, and the two eventually become friends. I don't want to ruin all the surprises, but let's just say it all ends with a polka.