PREVIEW: Sunsum is Spirit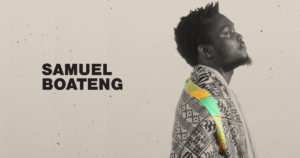 Recital continues our partnership with the New Hazlett Theater by publishing a preview and an editorially-independent review for the five performances in the 2021 CSA Performance Series season.  Throughout the season, Recital is meeting with each of the artists to bring you a brief profile of them and their work in the days before their opening performance. We will publish a considered review for each performance, developed from post-show discussions with a consistent panel of local experts in related disciplines.
PREVIEW: Pianist Samuel Boateng dives into the traditional, the supernatural, and the urgent on 'Sunsum is Spirit'
By David Bernabo
Samuel Boateng wants to re-imagine how stories about Africa are told, not only the content, but also the delivery. His new interdisciplinary work Sunsum is Spirit merges music, dance, storytelling, and video projection to provide a different ending for a commonly-told — read: stereotypical — story about Africa and the slave trade. Director Kelsey Wooley Jumper and choreographer Chrisala Brown alongside a cast of exemplary local musicians and dancers are on board to guide this collaborative, surrealistic production as it explores West African tradition, mythology, and migration.
"When people think of Africa in the 1700s and the 1800s, which is the general broader period that we are trying to situate this fictional story, they assume enslavement and kidnappings and war and famine," says Boateng. "We're not denying the fact that in reality these things occurred; however, that is not the end of the story."
In Boateng's production, we are introduced to three characters. They are tasked by their local elders to find a cure for a disease. On their travels to find the cure, they become aware of a deception. Their leaders had planned to sell them into the system of slavery.
"We're imagining a retelling of the story where people that were supposed to be part of the slave trading process find redemption," says Boateng. "Through a very deep, creative, spiritual process, they find a knowledge that allows them to resist that stereotypical story. They become our heroes, they become our examples, and they become our new leaders for the next generation. So, we're saying, no, the story doesn't have to end there, and even if it did end there, we still have the right to take these stories and reimagine better endings."
Sunsum is Spirit can serve different purposes for different people in different places, especially now that COVID-19 has shifted this Pittsburgh performance to an international one via New Hazlett Theater's free virtual screening. (Get tickets for the April 29 and 30 performances here.)