PREVIEW: Bryce Rabideau's Meanwhile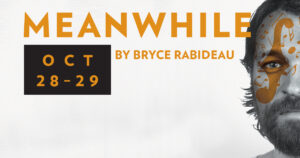 Interview: Mandolinist Bryce Rabideau on the premiere of 'Meanwhile'

If you were a regular show goer before the pandemic, you may have seen Bryce Rabideau play mandolin with Pittsburgh band Buffalo Rose. Or maybe you saw him play with the likes of Joy Ike, The Skyliners, or Bindley Hardware Company. Well, now, you have a chance to see Rabideau lead a new string trio when he opens the ninth season of the New Hazlett Theater's CSA series with a new stage performance.

Meanwhile is an exploration of American improvised music. Accompanied by Jason Rafalak (upright bass) and John Bagnato (acoustic guitar), Rabideau employs a suite of original songs to push the limits of the acoustic string trio and create a sound that promises to be "rich, spontaneous, and undeniably fun." Being privy to a bit of Rabideau's solo mandolin playing while conducting the below interview, that last statement is not out of the question. The songs and the playing are quite impressive.

Check out the interview below!

Meanwhile premieres at the New Hazlett Theater on October 28, 8PM and October 29, 11AM and 8PM. Click here for tickets and additional information and read up on the New Hazlett Theater's COVID policies before you attend.

David Bernabo: Hi Bryce, can you tell me about your show?

Bryce Rabideau: Sure. My show is called Meanwhile. Meanwhile is an exploration of American improvised music of all sorts, using the palette of the mandolin, the upright bass, and the acoustic guitar. The show itself consists of 10 original compositions that were written specifically to defy expectations of the audience and even of the other musicians on stage. So my goal is to sort of showcase some of my musical inspirations in a way that's exciting and thrilling and true to the genres that inspired them.

DB: I'm curious — what draws you to the string trio?

BR: I have been playing mandolin for a number of years now, and I think it's got a lot of qualities that are just so special. It can be a percussion instrument or a stringed instrument at any given time. And timbre of the mandolin meshes beautifully with the acoustic guitar and the upright bass. They don't get in each other's way, harmonically, and that presents so many interesting possibilities for different sounds and different palettes to explore. So I really wanted to take just those three instruments and push them to their logical extremes; try to emulate jazz fusion, try to emulate pop music, try to take aspects of other genres that really excite me and put them in this new setting and see what happens.