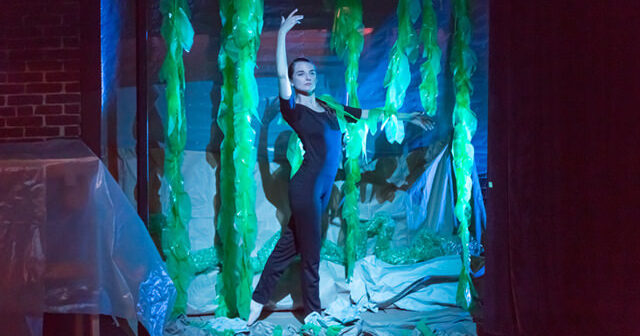 Moriah Ella Mason's Contained walks the line between wild and domestic.  Inspired by the strange assortment of creatures found in natural history museums, dancers evolve from insects to animals, from humans to monsters, myths, and beyond.  Contained explores our relationship to the untamed.
View this video on Vimeo for timed stamped questions.
Witness the evolution of this project with a behind-the-scenes video…
Moriah Ella Mason
Moriah Ella Mason is a choreographer and interdisciplinary artist living and working in Pittsburgh.  Her work has been seen locally at BUNKERprojects, RAW Pittsburgh, Spinning Plate Artist Lofts, and The Space Upstairs and has also been presented in Philadelphia, Tucson, and Brooklyn. She finds inspiration in visceral experiences, snails, the hall of North American wildlife in the Carnegie Museum, muscles and bones, gravity, and mapmakers. Ella graduated from Sarah Lawrence College in 2009 with concentrations in Modern Dance and International Development. You can learn more at www.moriahellamason.com.
Acknowledgments
Photography: Renee Rosensteel; Video: Jeremy Fleishman