The Ubiquitous Mass of Us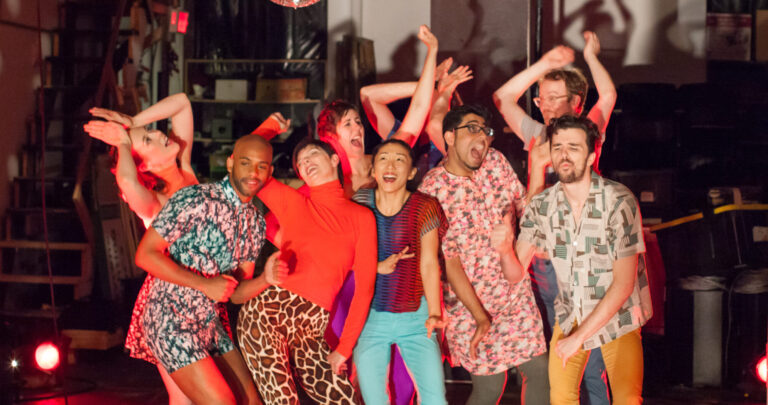 In The Ubiquitous Mass of Us, Maree ReMalia | merrygogo investigates the way we take up space.  From silly to somber, the performance oscillates between movement and sound, exploring a broad range of physical expressions as it flows in and around the work of visual artist Blaine Siegel.  Experience this singular group of artists through their investigations into the occupation and demarcation of space.  Featuring Joseph Hall, Taylor Knight, Paul Kruse, Adil Mansoor, Moriah Ella Mason, Jil Stifel, and Anna Thompson with David Bernabo and costume designer Rachel Vallozzi.
View this video on Vimeo for timed stamped questions.
Maree ReMalia
Maree ReMalia is a dance artist based in Pittsburgh, PA. Through merrygogo, she directs project-based performance works with communities of shifting collaborators.  Her choreography has been presented in Cleveland Public Theatre's Big Box and DanceWorks Series, Movement Research at the Judson Church, PearlArts Studios Artists-in-Residence Series, 60×60, SpringUp Dance Festival, and the Williamsburg Free Fest.  In spring 2013, she will perform with Staycee Pearl dance project and in Paul Kruse's new play, Chickens.  She is thrilled to present original work in the New Hazlett's CSA Performance Series in June 2014 in collaboration with Pittsburgh-area artists!  ReMalia is also a certified instructor of the Gaga movement language and practitioner of the Ilan Lev Method.
Maree ReMalia receives state arts funding support through a grant from the Pennsylvania Council on the Arts, a state agency funded by the Commonwealth of Pennsylvania and the National Endowment for the Arts, a federal agency.  This performance is also supported in part by The Heinz Endowments Small Arts Initiative.
Photo credit: Mark Simpson