Your Play Comes with a Side of Consensual Male Objectification in Brian Pope's Restaurant Romp, Himbos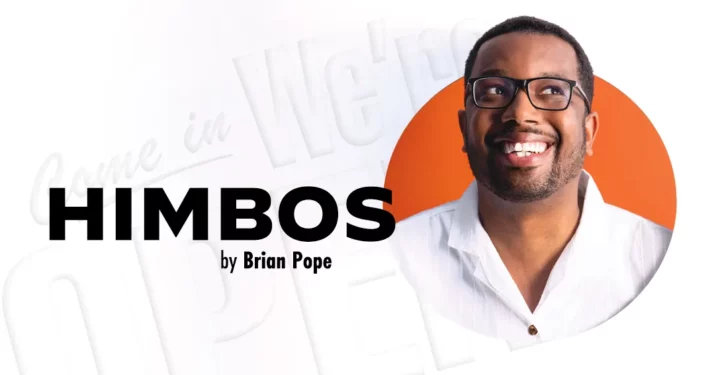 Your Play Comes with a Side of Consensual Male Objectification in Brian Pope's Restaurant Romp, Himbos
by Vanessa Reseland
The 2023–2024 Community Supported Art (CSA) Season is about to begin! I interviewed our first playwright of the season, and before I go any further, I would like to share the first question of our conversation:
Vanessa Reseland: Can you tell me a little bit about the overall concept of your show?
Brian Pope: Himbos is a workplace comedy about a restaurant staffed by beautiful men who wear tiny clothes.
You have our attention.
Brian Pope serves up the first show of this season with his saucy comedy about the service industry with a twist. He told me about the inspiration for this tale of hospitality hijinks, shame-free sexuality, and found family. Imagine the relationship dynamics and innuendo of a show like Cheers meets the spirit and wardrobe of Magic Mike. If that piques your interest (how could it not?), read on for more of our interview.
Himbos has three showings, Thursday, October 26 at 8 PM and Friday, October 27 at 10 AM & 8 PM. Tickets range from $20–$30 and are available at https://newhazletttheater.org/events/himbos/.
VR: As the playwright, when you sat down at a blank page, why did this story pour out of you?
BP: This play came from a real restaurant that existed in real life. It was inspired by Hooters, obviously, and it was consciously flipping the script. It was in Dallas, Texas. Tallywackers was the name of the restaurant. You know, of course it was. It was all over the news…because it was just a hilarious thing where there were men who were wearing short shorts or tank tops just like they do at Hooters. I was really drawn to the joy that was present in everything I read; everyone was having a good time there. The patrons, obviously, were very excited about it, and the guys too just really loved it. They enjoyed the attention, and like, there are worse ways to make money. It's hot, waiting tables, so wearing less clothes is also not a bad thing.
VR: I'm sure the outfits help with tips, but they're still doing a job.
BP: It is hard work standing up on your feet, carrying giant things! They were obviously very strong but still, it's hard.
VR: So when you watched all these stories about Tallywackers, what resonated with you?
BR: I just thought that was an exciting concept and a great jumping off point for a comedy. How people react, how the guys who work there get ready…what kind of mental math do they have to do to do that kind of work? What were they working there for? Who are the bachelorette parties for? The moms and daughters who come there? And kids! There's a kids menu! This is a world that I wanna write about. I really love getting to create a place where this was all consensual, and everyone was enjoying it and having a good time, there was no objectification in a bad way. This is honest and we're talking about it, and I think that's healthy. Sexuality exists, and it's a good thing and doesn't have to be you know exploitative or bad. It can be a positive thing that we all partake in that is silly.
VR: In your show, are you able to delve more deeply into these characters' backgrounds and, for lack of a better word, expose who they are beyond the objectification?
BP: Yeah, they all have unique storylines that sort of overlap in the play. Who is the owner? My version is that a woman owns it, and she used to work at Hooters. She has come and is revamping it based on her own experiences and reclaiming it. That was a very exciting story to tell. We have our romantic lead, Beau, and his rival Mateo, who is a bartender. There is a karaoke number that is a big, romantic gesture that is going to be showstopping. There are characters who are in a love triangle, one who has a baby he's trying to support. We get to know who they are and how they come together. It was my nod to those groups of four in lots of TV shows, like The Golden Girls and Friends.
VR: "Found family" is a term for people who meet and care for each other like family but are not blood related. I have heard you use this term to describe characters in this play. Can you tell me a little bit about what found family means to you?
BP: Found family is one of my favorite things to write about because I am such a product of it in my life. I came to Pittsburgh for college, and that's where I found my tribe doing theater at school. It's people who think the same way you do, who you just gel with naturally, and it's such a magical thing. For these guys [in Himbos], it is the bonding of, like, look at this crazy thing that happened today, this thing that no one else in their lives understands and also how they're all different, they all complement each other.
VR: Is there anything you want to say about the importance of sharing queer storylines in the theatre and in Pittsburgh?
BP: My life is a queer storyline. It just comes naturally. So many people identify with what I'm writing. These storylines are everywhere now. They're on TV. They're on stage. Musicians are openly queer and singing about that. It's great to offer queer characters that are relatable, that are flawed, that are really silly, that are mean sometimes, that don't always do the right thing, but that we can identify with, and we can relate to. We know what they're going through and, like, that's just another part of their identity. It's not the thing. And in this setting, it is not just women who are coming to see these men. Everyone is coming to see these men, let's be real. The funny thing is that the reverse Hooters was pitched just like, "Oh, this is for women." It was for men. Just like Hooters was for men. It's great that women are there and able to participate, too. They should, they deserve it, but I think that is a thing that is powerful about the queer community, that we are getting to a place where we can talk about that and live in that fully, and I love writing about that.
VR: So do you have an ideal audience for this show? Who should come and see it?
BP: Everyone. Everyone should come, but specifically I just want people who are ready to have a good time. There's so much craziness going on in the world, but I want my play to be an escape from their issues. It's a comedy. I want people to laugh. I want people to smile. My greatest hope is that people feel good when they leave, that they feel like, "What did I just watch??" but it the best way.
Himbos runs at the New Hazlett Theatre October 26th at 8pm and October 27 at 10am and 8pm
Himbos
Written by Brian Pope
Director: Shannon Knapp
Set Designer: Tucker Topel
Costumer: Claudia Brownlee
Lighting Designer: Rianne Lindsey
Sound Designer: Parag Gohel
The cast includes: Tyler Ray Kendrick, Dylan Meyers, Gayle Pazerski, Zachariah Washington, Victor Aponte, José Pérez IV, and Michael Zolovich.