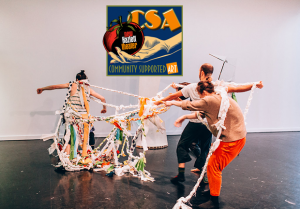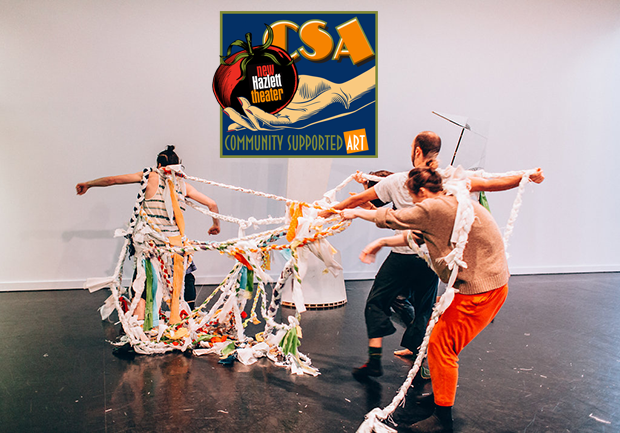 by Jennifer Keller
A sold out audience packed the house at The New Hazlett Theater for the premiere of WaywardLand, a new creation by Jil Stifel and Ben Sota on Thursday, February 12, 2015.
The show included stellar performances by the creators, along with Anna Thompson and Taylor Knight, as well as freshly composed music by Dave Bernabo, masks and sculptures by visual artist Blaine Siegel, costumes by Casey Droege, and lighting by Scott Nelson.
A rich visual design teased our imaginations during the pre-show, with carefully placed set pieces suggesting events to follow.  A trapeze hung from the center rafters, along with a frayed, colorful rope that was draped in a triangular canopy over the audience.  A mirrored image of the rope appeared on the stage floor, along with white, stand-alone "doors" that populated the space in unusual cutout designs.  A stage door opened into blackness on the first balcony, with an enigmatic bull's mask resting in front of it.  Thin wisps of fog contributed to the mystery by snaking their tendrils across the set.
The evening officially began "looking at the stars" – a single upstage light focused down on the audience and performers.  Thoughtful and intentional in their layering of images, Stifel and Sota took the audience on a journey that descended from the stars into a world that hybridized dance, circus and physical theater.  At the center of their exploration was the interest of hybridizing the solitary man with his animal, communal self.
The theme of man as beast was introduced early on by Stifel's powerful and articulate solo.  Her slinking torso and clawing hands hinted at her inner transformation before she disappeared behind a low-lying "door" to don her foot-high minotaur mask, adorned with a real bull's horn.  With the mask covering her head, she reappeared with staccato, cloven hoof stomps, repeating many of the same solo movements to chuckles in the crowd, who embraced the humor and context of her physical language.
As the transformed Stifel slowly exited, framing herself in a doorway, Sota entered through a doorway of his own.  Sota's solitary human world was interrupted by the toss of a lifeline by Knight, who offered rope for Sota to create a maze of pathways on the floor.  The ensemble of dancers eventually found themselves travelling this tight-wire highway, signaling one another, and finding brief moments of comfort and repose on this precarious landscape.
Further illuminating the man as beast theme was a delightful and humorous women's duet:  Stifel expressively mouthing and gesturing to the audience while Thompson succumbed to her animal slump.  After a short time, Stifel would notice her companion and prop her up.  The audience got the joke, and Thompson reveled in a deeper transformation with each repetition of this exchange.
Throughout the evening, all the dancers performed self-examinations, often looking at their hands and affirming their motor abilities with wrist flexing and finger-scooping.  These small gestures became large statements throughout the work about our humanness, animality and desire to be part of a community.  Growls and grunts abounded, whether Sota stomped on high stilts across the stage, or virtuosically hoisted the German Wheel into the air as his oversized dream-catcher.  The performers repeatedly sought connection with one another, be it on the rope turned tight-wire, or German Wheel-turned-lifeboat.  At one point, Sota's life was literally in the dancers' hands as they hoisted him up and down during his trapeze solo, a man hanging by a thread.
Profound moments of connection came when Stifel and Sota took the German Wheel into duet form.  Beautiful and endlessly fascinating in its balance and dependency, the German Wheel became a metaphor for their relationship.  Counterbalanced on opposite sides of the wheel, they communed with one another, gazing through its frame, while Knight and Thompson explored a much closer, intimate duet in the balcony, minotaur head-gear attached.   Seeing these two relationships exposed in the space gave the audience much to consider about intimacy and connection in our man-made world.  During the talk-back session after the performance, Stifel explained her discovery that often "being a bull was more human than being a human."
The cast inhabited an unstable world – slumping from man to beast and back again, while precariously navigating stilt walking, German Wheel riding, trapeze slinging and tight-wire balancing.  They seemed to find their grounding in their final hybridization, relaxing comfortably in the German-wheel turned hot-tub, all four adorned with their individual minotaur masks and fur embellished costumes, nodding at each other in intimate conversation under the stars.