REVIEW: Princess Jafar's The Princess is Right!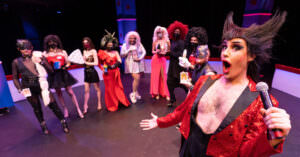 The Princess Is Right! is a delirious concoction of quick-witted jokes, multimedia experimentation, and economic assistance

Photographs by Renee Rosensteel.

The game show is a fantastical setting. It's a place where you can win money, a car, a treadmill, a box of harmonicas, a date, a marriage, or a live goat–yes, all taxable if over $600 in value. It's a space that is sectioned off from the miseries of the world–but surely stewing in all its capitalist glory–where upward mobility is the name of the game. Best of all, it's a place where calculated risks can change your life, mostly for the positive. And it's a perfect environment for Pittsburgh's self-proclaimed local villain Princess Jafar to skewer, recontextualize, and reinvent.

Drag artist Princess Jafar presented The Princess Is Right! as part of the New Hazlett Theater's 9th CSA season. The evening-length performance is a wildly entertaining take on the game show format, but it also borrows heavily from late night shows like The Tonight Show Starring Johnny Carson and Late Night with David Letterman. A rotating cast of guests, prize games, and video sketches keep the flow moving swiftly, and the anything goes structure of the performance allows ample room for both humor and societal critique. Arriving after a series of finely done riffs on TV culture like an Xmas special at the Alloy Theater, a talk show at Club Cafe, and a pandemic-era Zoom-streamed Easter Eggstravaganza, The Princess Is Right! is a delirious concoction of quick-witted jokes and asides, multimedia experimentation, and economic assistance (somebody won a washer and dryer set).

The name Princess Jafar immediately sends us back in time, 30 years ago, to the world of Disney's animated film Aladdin. Jafar is the film's power-hungry antagonist. Based on three characters in the Aladdin story from One Thousand and One Nights aka Arabian Nights, Jafar seeks a magic lamp whose genie would be obligated to hand-deliver Jafar enough cosmic power to take over the world, ushering in a narcissistic dystopia. Self-proclaimed pop superstar Princess Jafar, who sometimes incorporates elements of the Princess Jasmine character in merch and press materials, shares Jafar's overall goal–global domination–but seemingly has more benevolent intentions, as we'll explore below.

The evening begins when kidmental (playing the Paul Shaffer or Kevin Eubanks or Geoff Peterson co-host/bandleader character) kicks off The Princess Is Right! theme song, interjecting in a flashy radio announcer voice, "we have games and prizes, cash and surprises, all the nice products and greenbacks, you'll sure to be back every night." Princess Jafar enters and immediately goes into a Late Night bit, riffing with kidmental about the recent holidays, cancel culture, and the price of beauty. There's a mix of purposely bad jokes (a ceramicist friend making 8 figures a year) and cheeky jokes ("I can't get these apps to work. I keep sending these guys my pics, and they keep asking for a whole pic. I mean, are they only getting half?"). Later, Princess Jafar dons a turban to riff on the Carnac the Magnificent character, reclaiming Johnny Carson's "mystic from the East" (via Nebraska) through Princess Jafar's Arab-American background. The bit kind of flounders (under intentionally bad jokes?), but redeems itself with a poignant rebuttal to America's epidemic of police violence. These sections are quick-paced and benefit from good chemistry between Princess Jafar and kidmental.

From the get go, there is no fourth wall. Our host is addressing us, the audience. But there's something else going on. Princess Jafar continuously references the script that her and kidmental are reading from. In doing this, the audience is made aware that a game show is being played, but also, that it is being performed. Without the rules necessary to run a daily game show, Princess Jafar is free to experiment.

Video works are peppered throughout the performance. A video sketch about a nanny and a child possessed by Phyllis Diller brought out the audience laughs, and rightfully so; it is hilarious. Many of the other videos are short experiments, surreal gags, and goofy parodies, along with a few advertisements. All in all, the video segments are charming and lead to a what-will-happen-next style of anticipation.

Livefromthecity

The performance is surely collaborative with guests arriving in-person and virtually via pre-edited videos. While many of the jokes and bits are the same for each performance, each night has a few surprise guests. (Our panel reviewed the Friday night performance, and video of the Thursday night performance was made available by the New Hazlett Theater.) In many cases, guest talents are limited to minimal tasks like modeling prizes. But some guests get to collaborate on segments. After helping with hat and wig changes, Bae Le Stray gets to co-host the "Bae or Stray" segment, which emulates Le Stray's Twitch/Youtube series. In the Thursday night performance, hip hop artist Livefromthecity does a show takeover and stages a show-within-a-show dubbed "Live After Dark." kidmental is reintroduced and the show starts over. Livefromthecity retells the ceramicist joke and the audience seems much more excited the second time around.

But even with the wealth of people walking on and off stage, this show lives or dies with Princess Jafar. She is directly responsible for the pacing and the energy level of the show, and to that end, our panel was impressed with her stamina. She completely pulls it off, stitching the different events of the performance together with an enthusiasm that pours over bouts of snark, vanity, jugular-approaching critique, and community building.