REVIEW Porto Domi
December 14, 2018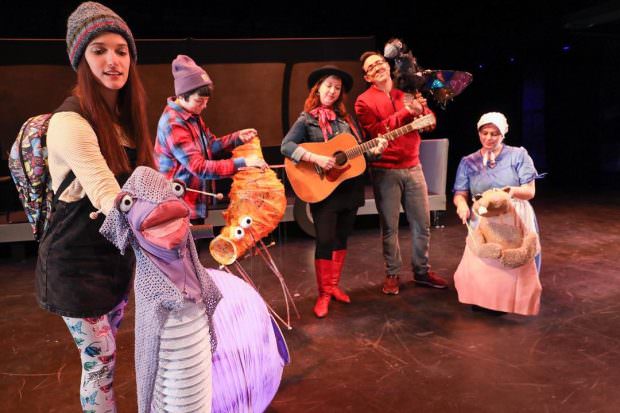 Continuing Recital's sponsored partnership with the New Hazlett Theater, we are presenting a series of editorially-independent previews and reviews of the 2018–2019 Community Supported Art (CSA) Performance Series. Below is our review of Porto Domi by Felicia Cooper, a collaborative response from Recital editor David Bernabo, season review panelists Maree ReMalia and Jason Baldinger. Read their bios at the end of the review. And read our preview of the performance here.
By David Bernabo
Review: Porto Domi Finds A Home at the New Hazlett Theater
Enthusiastic performances and intriguing puppets bring Felicia Cooper's vision to life
In a slight pivot for the New Hazlett Theater's CSA series, children are the focus in puppeteer Felicia Cooper's Porto Domi, a theatrical puppet performance for audiences of all ages that considers the concept and value of home. Inspired by a bus trip in which the driver's daughter treated the bus as a surrogate living room, relaying stories about snails living in the luggage compartment, Cooper brings the inspiration to life, parading a cast of characters and puppet animals through a wonderfully-rendered bus. Porto Domi succeeds in communicating its message through enthusiastic performances and intriguing puppets.
Anna, played by Claire Marie Sabatine, seems to have charge of her father's bus. She acts as greeter and inquisitor of the bus's temporary tenants. As new riders enter the bus, Anna collects their stories and relates them to her own passion — animal facts. A glass collector reminds Anna of a bowerbird, which integrates built structures with brightly-colored objects in order to attract a mate. The life of a transient is compared to a hermit crab, moving from shell to shell as it grows in size. Lastly, an Amish rider is paralleled by a beaver, comparing the skill of barn-raising to dam-building. These three examples show a diverse range of homes, paralleling Anna's own mobile home when traveling with her father.
Photo by Renee Rosensteel