REVIEW Migrant Liberation Movement Suite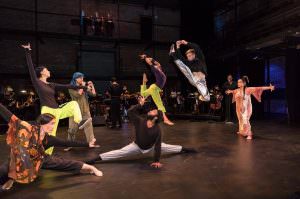 Continuing Recital's sponsored partnership with the New Hazlett Theater, we are presenting a series of editorially-independent previews and reviews of the 2018–2019 Community Supported Art (CSA) Performance Series. Below is our review of Mirror Butterfly by Afro Yaqui Music Collective, a collaborative response from Recital editor David Bernabo, season review panelists Maree ReMalia and Jason Baldinger. 
By David Bernabo
With wide-eyed zeal, an expanded version of the already large Afro Yaqui Music Collective delivers a dynamic new opera with Mirror Butterfly: Migrant Liberation Movement Suite — a work that merges indigenous musics and movement styles with the more Western traditions of jazz, funk, and hip-hop. While the work, at times, feels overstuffed with ideas and ambition, the opera pushes an urgent political message — a plea to save the natural world from the evils of capitalist-driven industry — and surrounds that message with adventurous music, storytelling, and a merging of dance and martial arts.
In the press lead-up to the event, the ensemble discussed how the piece would address climate-based migration, but the performance presented a more broad treatise on the impacts of runaway industry on the natural landscape. The plot, told through narration, song, and rap, involves the fight of three mythical warrior sisters — a mulberry tree, a wildflower, and a mirrored butterfly — against the sword, an embodiment of capitalism, especially the history of extractive technologies used in the production of energy and materials. The stories surrounding the warrior sisters draw from Mayan and Zapatista parables, along with "The Story of the Stone" — written by Cao Xueqin and considered one of China's four great classical novels — and also from interviews with activists including multi-disciplinary artist and former Black Panther "Mama C" Charlotte Hill O'Neal, Kurdish women's movement organizer Azize Aslan, Afro Yaqui co-founder Gizelxanath Rodriguez, and Reyna Lourdes Anguamea.