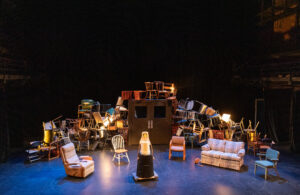 Continuing Recital's sponsored partnership with the New Hazlett Theater, we are presenting a series of editorially-independent previews and reviews of the 2021 Community Supported Art (CSA) Performance Series. Below is our review of Local Singles by Nick Navari, a collaborative response from Recital editor David Bernabo and guest panelists Jason Baldinger and Ariel Xiu. Read their bios at the end of the review, and read our preview of the performance here.
Review: "Local Singles" Navigates the Line Between Support and Dependence
By David Bernabo
In Nick Navari's debut musical Local Singles, a support group for the lonely acts as the catalyst and the witness to a series of major and minor life changes — pregnancy, break-ups, and miscarriage. The cheery veneer of Navari's upbeat piano-driven pop songs works in conjunction with comical gags and heartwarming moments, but also creates an interesting dissonance with the more complex and tragic events that take place. Snappy dialogue and strong acting allow Local Singles to move swiftly through both inspired and muddled plot points as characters navigate the line between support and dependence.
Virtual curtains open. The camera, aided by a lively Steadicam, follows Penny (Sarah Chelli) as she paces around her bed. It's night, and her boyfriend just walked out after she told him that she's pregnant. There's panic in her voice as she comes to accept her situation, singing, "it's just you, it's just me, and this pain". Despite the panic, the music is uplifting, poppy, and oddly hopeful.
The lights brighten and Johnmichael Bohach's excellent scenic design is revealed — a tall arc of chairs resembling a nest. There's a sense of the magical in the set design, but it still reflects the back room, grassroots vibe of a YMCA community room, which is where the bulk of this 90ish minute musical takes place.
The support group is hosted by married couple Nancy (Sydnee Elder) and Richard (Seth Laidlaw). Prior to the beginning of the story, the only attendee of the meetings is Jack (Emmanuel Elliot Key), a young-ish man still reeling from a high school crush — his teacher. Wes (Adam Marino), recently single and looking to attend the "Hot Local Singles" meetup down the hall, arrives and Jack guilts him into staying at the decidedly not hot, nor cold "Local Singles" meeting. Penny arrives shortly after Wes, and the team is assembled.
Navari, who wrote the book, lyrics and score structures the musical as a series of scenes that build to a song. Each scene/song combo delves into the characters' hopes, desires, and fears. We get a good amount of backstory — except for Richard, who is given a heartwarming speech near the end—which allows the cast to define their characters, map out their emotional extremes, and play with nuance. While most scenes take place in the same location — the YMCA room — there is care to build in a memorable prop or formation to keep scenes from blurring into each other. There's a great sequence with multiple mirrors reflecting characters at different angles and viewpoints. Another moment finds everyone sitting on cajons banging out the rhythm track while discussing their pasts.