Review: The Artful Composition of Jasmine Roth's "Painting Lessons" Balances Realism and the Abstract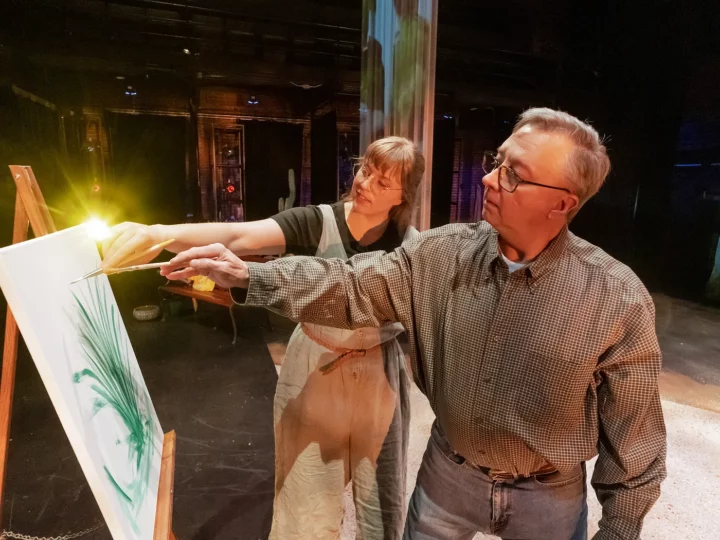 Review: The Artful Composition of Jasmine Roth's "Painting Lessons" Balances Realism and the Abstract
By Vanessa Reseland
Continuing Recital's sponsored partnership with the New Hazlett Theater, we are presenting a series of editorially-independent previews and reviews of the 2022–23 Community Supported Art (CSA) Performance Series. Below is our review of Painting Lessons by Jasmine Roth, a collaborative response from Vanessa Reseland with guest panelists Ariel Xiu, Luis Zul, and David Bernabo.
When our review panel convened to discuss the show we'd just seen, Painting Lessons by writer and director Jasmine Roth, it took several moments to form thoughtful words. I was not the only panelist to have a stuttered response. Despite the awareness of the subject matter, most of us were a bit dumbstruck as we sat at our post-show conference table.
The play was a loosely-based-on-the-true-story of the illness and subsequent death of Roth's father, and it evocatively traversed both the commonly human and the uniquely personal odysseys of grief. Scrutinizing the earthshaking loss of a parent, Roth shone a light from the rubble of mourning onto the dreamy lifetime of memories painted by the person they believed their father to be. Their shared moments before his fatal diagnosis are revisited with a new anguished longing, each meaningful conversation or lingering question made hazy from nostalgia or desperation. To be candid, 14 months after losing my own mother, I find this review to be especially confrontational, painful, and challenging to write. Given the stifled sniffles repeatedly filling the theater, it seems Jasmine Roth's piece deeply touched their audience with this beautiful, heartbreaking, and hopeful homage to their father.
Our protagonist, J, is played by Abbie Siecinski with a remarkably similar essence to that of author Jasmine Roth. Abbie captured her muse with natural accuracy and a full range of emotion. Her dad, a painter and art teacher known only as "Dad," is a more mysterious figure played by John Dolphin with the sturdy closed-offness often associated with baby boomers.
Throughout the piece, we hear J's inner thoughts. We retain them as well-crafted recollections. Sometimes, we experience them as monologues mid-panic attack. We learn her triggers with her father, and we hear about her lack of closure in their relationship. As with most parent-child relationships, the child's concern is largely self-centered. What do I wish you had given to me? What do I need from you before you die? As caring and curious as J is about their father's life, pain, secrets, and loves, this show is about their side of the relationship, their grief. Even the most thoughtful offspring sees their parent firstly as their parent.
Here to keep J's "main character" mindset in check is the unexpected, oh-thank-goodness-we-can-laugh-right-now "Greek chorus," a trio of dexterous and hilarious character actors comprised of Rebekah Hukill, Catherine Baird, and Greyson Taylor. Each play multiple roles from waiters to orderlies to doctors to J's mother to J's estranged aunt — an efficient and entertaining production choice. When tension or pain or discomfort lingered in the air, the chorus members gave it a name and teased it just the right amount to ease the audience into the scenario. There were moments when it worked very well. During a montage of doctor visits and various tests, the chorus tapped into the remote nature of hospital workers who are aiming to save lives yet remain strangers throughout the process. Elsewhere, a heartfelt scene that found J and her long-lost aunt — delightfully played (with an Australian accent, no less) by Greyson Tucker — reminiscing about J's father contains chemistry so palpable and sweet that we rooted for them to stay in touch after their coffee date. Other times, the role-switching fell flat. In a confusing look back at J's previous marriage, Tucker also plays J's ex. The dialogue was less specific than in most of the show. Seemingly written to prove that the ex was not the right fit for J, he came off as selfish and uncaring and not much else. That, mixed with the lack of chemistry between Tucker and Siecinski, was enough to write off that scene as exposition and just wait for the next moment in the Metaphysical Cactus Garden.
Oh, I haven't mentioned the Metaphysical Cactus Garden yet? This is where the show took us when we weren't in the hospital or the art studio or within in a memory. The garden is another perception of their relationship, centering around their communal language and love of painting.
The refreshing structure of this show bounced out of the traditional world of linear storytelling and into the realm of the abstract. The timeline ricocheted from what seemed to be a few years after J's father's death (present day), to the day of their father's cancer diagnosis, to their unsatisfying childhood, to his death, to a dreamlike world that transcends time known as the Metaphysical Cactus Garden, where J and Dad are free to discuss all things with the wisdom of hindsight as they paint the desert landscape they had planned to paint together before he died.
The inconsistent pacing of the play struck some of us as intentional, some of us as problematic. Some scenes were at a nearly manic tempo, like J's desperate and breathless monologues, pushing the audience forward along with J, whether we wanted to go or not. Some scenes, like Dad's actual death, the arguable climax of the show, included several moments of complete silence. The panel agreed that the fallen hush was a smart and effective choice, giving us the chance to take in the plot shift while we also allowed our minds to wander into our own personal, painful déjà vu. One's perception of time while experiencing death and grief is not linear; it is not consistent. Some moments swallow us for an eternity, and some moments feel like too much is happening at once. Most of us felt that the overall effect of the rapid-fire juxtaposed with the endless was worth exploring and largely effective.
An awakening of J's sexual orientation was teased through the first half of the show. "Gay, bi, queer, whatever I am," J surprisingly stammers in a frantic, get-this-over-with way at one point. J struggles with the fear that their Christian father would never have approved of their divorce, their interest in dating women, their unknown path forward. Here is where the autobiographical nature gets murky. In a scene melding the Metaphysical Cactus Garden with the physical world of Dad's art studio, J found evidence of Dad's attraction to men when going through his belongings after his death. In his art studio, Dad appeared, and J confronts him, asking why he never told her. Dad explained that he had to chose, at that time, between his attraction to men and his desire for a family. He chose a family and stood behind his choice. As we watched this emotional scene, our minds began to wonder…is this real? Was Jasmine's Dad closeted? As we wondered this, J announces their concern about outing a dead man and whether or not his family would walk out of this very show. We were on the same page. The breaking of the fourth wall and references to family made some of our panel believe this was a true story from Jasmine's life. Others were convinced it was artistic license that wasn't entirely necessary. Some were offput. Some were intrigued. Some were confused. Some were irritated. All were curious. All were affected.
In a later scene with J and Dad — the chorus beautifully lit by Haley Brown and staged using three levels by Jasmine Roth — rain poured for the first time in their cactus garden, and this weather change brought about a new conversation regarding three lingering topics with a common thread. Would you have accepted me if I got divorced? if I were gay? if I didn't believe in God?
Our panel had a lot to say about this. While some felt the entire idea of seeking acceptance from a dead person to be demoralizing and delusional, others felt that the conversation represented more of a self-acceptance or even an illusion of possibility that could bring a necessary peace, no matter how unrealistic. Concepts like needing to choose between being queer and having a family or needing the acceptance of someone who may be homophobic made many of us feel that these storylines are less than ideal. Do queer stories of struggle need to make way for depictions of living, not fighting for a place to live?
Roth attempts to go there in an epilogue that was equally adorable, puzzling, and out of place. After J makes some bit of peace with her Dad in the cactus garden, they announce that there is one more scene that "really happened," leaving the panel confused again on what was real and what was artistic liberty. Setting that aside for the moment, we watched this "real-life" scene take place with an actor, Siecinski, still portraying the "real-life" person who directed her in this scene. This scene was a date. J's date. With a woman. It was a simple celebration of getting over the hurdle of self-suppression. After a song, "Isn't She Lovely" comes up in conversation about her father/daughter wedding dance, it begins to play in the restaurant. It was a sweet wink to her father and to the idea that the people we love can show themselves in various ways after we lose them. As cute as this scene was, and as much as we craved a joyful, pro-LGBTQIA+ life moment, this scene was ultimately confusing after such an emotional show that had already wrapped up so beautifully, and many of us felt it could have effectively ended without the tag.
After the show, Roth was asked what their plans are for this piece. There was not a clear answer. It is possible this show was written as a personal catharsis and nothing more. We hope that isn't the case though. Painting Lessons was a creative, funny, moving, stirring evening of relatably out-there theatre about a time in life that is as close to death as we can get. I hope there is a long life for this piece of theatre and a long career for Jasmine Roth.