REVIEW: Her Holiness, The Winter Dog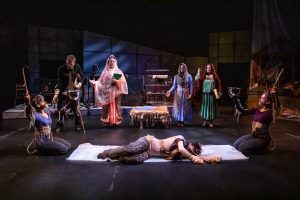 Continuing Recital's sponsored partnership with the New Hazlett Theater, we are presenting a series of editorially-independent previews and reviews of the 2018–2019 Community Supported Art (CSA) Performance Series. Below is our review of Her Holiness, The Winter Dog by Kamraton, a collaborative response from Recital editor David Bernabo, season review panelists Maree ReMalia and Jason Baldinger. Read their bios at the end of the review.
By David Bernabo
Review: A Uneasy Future, Beautifully Executed
Kamratōn and Quince Ensemble premiere a new opera from composer Curtis Rumrill and librettist Zachary Webber
To close out the 2018–19 New Hazlett CSA season, music ensemble Kamratōn enlists an all-star crew of collaborators to premiere the ambitious opera Her Holiness, The Winter Dog, composed by Curtis Rumrill with a libretto by Zachary Webber. The plot is set in a post-apocalyptic future where nonhuman life is mostly extinct, class war is about to erupt, and dissonant microtonal music is the norm for the wealthy's house bands. The opera is dense, dark, and severe on many levels but is balanced with frequent humor and an affinity for curiously gross language. With stellar performances and great costuming and set design, the cast admirably executes a work that seems crafted to make the audience feel uneasy.
The opera starts with the funeral for the Autumn Dog. The Autumn Dog is not an actual dog, but a human dressed as a dog that provides spiritual guidance and protection for their employer. The employer in Her Holiness is a trio of sisters that own a once-great, but now crumbling estate. They employ a number of servants — the Dog, two "cats," a small musical ensemble, and two maids. Vassa, the sister most in charge, drinks through the day while they all cower in fear of the people that live outside the green zone of the wealthy estates, the Strangers.
We are introduced to this world through the words of the officiant — brilliantly played by conductor Daniel Curtis, whose previous acting experience is surprisingly very minimal. Over the rising tones of a microtonal organ — designed by Rumrill for this opera — the officiant provides details of the workings of this world and the sisters' house. Most importantly, the officiant tells us about the vacuum left by the death of the Autumn Dog — how the house now lacks protection from the Strangers. This vacuum spurs the sisters to hastily hire a new dog, the Winter Dog, performed by Jamie Murphy.
Photo by Renee Rosensteel