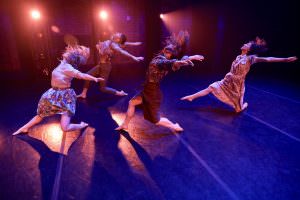 Continuing Recital's sponsored partnership with the New Hazlett Theater, we are presenting a series of editorially-independent previews and reviews of the 2018–2019 Community Supported Art (CSA) Performance Series. Below is our review of Porto Domi by Felicia Cooper, a collaborative response from Recital editor David Bernabo, season review panelists Maree ReMalia and Jason Baldinger. Read their bios at the end of the review.
By David Bernabo
Review: Reilly's intuitive knack for choreography drives 'Dolina'
In Dolina, choreographer and dancer Kasia Reilly creates a nearly-evening-length dance piece that takes risks — playing with time, symbols, and paradox — and rewards the audience with an evocative and mysterious dive into the surreal. The choreography has a strong point-of-view, and the technically challenging sequences are well executed by a talented quartet of dancers. Knowledge that Dolina is Reilly's first major work after finishing an undergrad degree only makes the endeavor that much more impressive.
A little context is useful when approaching Dolina. Knowledge that the dance is working with themes of absurdity and surrealism assists in redirecting the sometimes violent or gruesome choreography towards a certain context — a place that takes cues from authors Witold Gombrowicz and Samuel Beckett and possibly from the masked and rear-facing figures in Magritte's paintings.
There are a number of striking moments throughout the piece, starting with the opening sequence. Four figures emerge from the darkness, masked in fitted black hoods. Two figures crawl, two figures delicately step. They face each other, creating a mirror image. At some point in their slow trek across the stage, the dancers turn their faceless gazes on the audience. The audience is no longer a bystander, but an active presence in the dance, a witness to events that cannot be placed in a certain time or place.
Photo by Renee Rosensteel