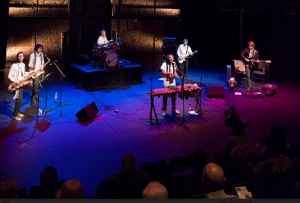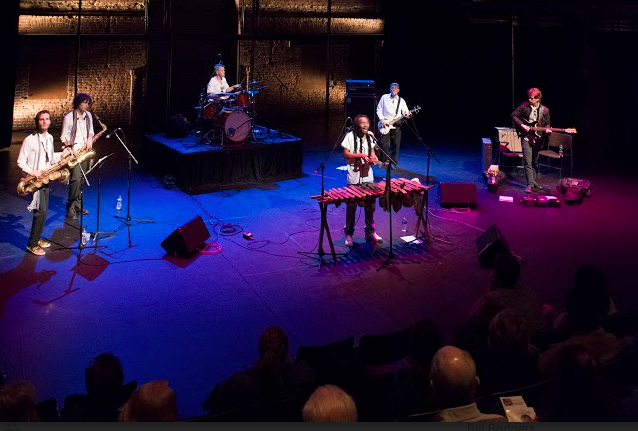 By Phat Man Dee
On the Northside of Pittsburgh, PA, at the New Hazlett Theater, there rose a music with driving new African melodies and polyrhythms. Mathew Tembo, a well known musician in his home country of Zambia in the south of Africa, along with his band, The Afro Roots, were completing their residency at the CSA program and the evening was a glorious celebration in song. The songs were sung in multiple African languages, but Mr. Tembo explained the meanings of each song so that even those who speak no Bemba, Nyanja or Tonga (the most widely spoken languages of Zambia), the meanings of the original compositions were clear. The songs all had messages which were important to understand. "It's not enough to listen to African music, your body must be involved" said Mathew, and so the audience was encouraged to clap along and sing.  Even as physical enjoyment of the music was encouraged, the stories of the songs helped the attendees understand this powerful artist's drive behind his upbeat music.
Tembo played his music on a homemade "calimba", known as a "thumb piano" which is a box with tuned tines of metal on a box or gourd and also on a "silimba" which he crafted himself. He carved the gourds beneath the wooden planks or "notes" and they rest atop a wooden and rope stand. His voice has a soft huskiness , which accompanied by his bright smile, draws in the listener to pay attention, even if they don't fully understand all of the words. His back up musicians included Dr. Colter Harper (PhD in Ethnomusicology and recently returned from a 2 year stint teaching music at the University of Ghana) playing a "seperewa" which is a traditional Ghanian harp and electric guitar. Other musicians included Hugh Watkins on electric bass, Gordon Nunn on a drum kit and a horn section which included baritone and alto saxophonists.
Mathew's first song "Saba" spoke of a queen of "Habesh" or "Abyssinia"; 3000 years ago she ruled a land known today as Ethiopia. We know her as the "Queen of Sheba". Her beauty and wisdom were so legendary it was praised in both the Old Testament and the Koran. He  dedicated this song to the women of the world, especially those living in so called "third world" countries, in hopes they someday achieve equality. His second song was more upbeat and poppy, very reminiscent of African high life sound, and everyone in audience was bouncing up and down in their seats. The kind gentle spirit of Mathew Tembo carried these songs to a deeper place, which went well with the them of his third song in which he asked "Why" over and over again in song, with driving drums and poly rhythmic bass challenging the beat while simultaneously supporting the form. The theatrical lighting upheld this musically insistent query as they changed from earlier warm pulsating reds and oranges to pulsating harsh whites, while the drums and bass responded in a classic call and response very common to African music.  The horn harmonies emphasized the call, while the calimba danced about while Tembo's vocals demanded an answer to the continually unanswered question of "why". The song ended on unresolved note, which further underscored the needed answer which many, regardless of familial and cultural origin, crave.
His next trio of songs illustrated the life of the child known as "Africa". In these songs Tembo sings of a child who became a man unable to care for himself. A man who needed handouts for himself and his family to survive, who fought with friends and loved ones. This suite was a prayer to God that "Africa" could someday be independent, care for himself, and live in peace. Mathew sang a musical prayer that peace could exist not just for "Africa" but for everywhere where there exists violence and injustice. This he dedicated to Syria, to Palestine, to Illinois, to Oregon, to wherever there is shooting and death and war. For these songs Dr. Harper played his electric guitar, fingers moving as raindrops on morning grass in the form of a jazz solo backed by tight horn arrangements. The rubato opening became a driving 6/8 tempo, and in this prayer Tembo's voice took on new power as he beseeched the universe in song as his band provided a solid driving sonic bed to support this prayer, to which one could waltz. It was truly lovely to see how well attuned the musicians were to Tembo and how well the arrangements went seamlessly from one song to next regardless of difference in tempo and rhythm. None of the music performed by these North American musicians is commonly taught in many schools of music in the USA. Today there are more African music programs than in previous decades, but when these musicians  were coming up, resources in musical diversity were limited. It is a testament to both Mathew Tembo's teachings and his players' dedication to the music and their instruments how well they mastered the intricate rhythms and the breaks in the specific arrangements of Mathew's compositions. Cialis Tadalafil best price at http://www.dresselstyn.com/site/buy-cialis-ed-pills-online/ guaranteed.
Other songs later in his set touched on serious issues. One song dealt with "ufumu" a Zambian word for governance, and Tembo dedicated this song to the politicians of the world who care more for their power than they do for the people they are supposed to be governing and supporting. Another song spoke about a young girl who was taken from her village to the city, to learn, she thought, but in truth to be a servant, abused by those who should have cared for her. This song he dedicated to all young girls who deserve a better life where they can go to school and learn and be free. His final song sang about how so many people spend so much of their lives running after material things that they tragically miss actually living their lives. The beat got faster and more frenzied and the rubber mallets hit the silimba so hard the notes were jumping up and down off their gourds culminating in the entire band's staccato finale of power.
Mathew Tembo is a talented, dedicated musician with much to say and many who want to say it through music with him. It was an honor to be in a packed house full of people who wanted to hear it and I appreciate the CSA program for giving him a platform and opportunity to flesh out full arrangements and celebrate this musician who has made Pittsburgh his home.