REVIEW: Bryce Rabideau's Meanwhile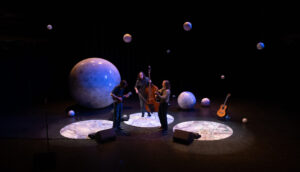 Review: With "Meanwhile," Mandolinist Bryce Rabideau Welcomes Us Back into the Theater
Continuing Recital's sponsored partnership with the New Hazlett Theater, we are presenting a series of editorially-independent previews and reviews of the 2021–22 Community Supported Art (CSA) Performance Series. Below is our review of Meanwhile by Bryce Rabideau, a collaborative response from Recital editor David Bernabo and guest panelist Jason Baldinger. Read their bios at the end of the review.
By David Bernabo
Surrounded by milky, planetary spheres, some floating in the air, others grounded, mandolinist Bryce Rabideau speaks of the perfect song. Could a song change one's world? Could a song change the world? It's opening night for the ninth season of the New Hazlett Theater's Community Supported Arts (CSA) series. Rabideau, joined by bassist Jason Rafalak and guitarist John Bagnato, present Meanwhile, an evening of acoustic, mandolin-forward music, music that is harmonically-complex, fusing elements of jazz, folk, and bluegrass into tidy compositions that never linger in one place for too long.
Over the years, the CSA series has shied away from presenting a band playing songs on a stage. As reviewers, we've also discouraged it. The argument being that there are plenty of places to present music in town yet few options to experiment with interdisciplinary collaborations or to attempt a bold advance into the avant-garde, especially at the scale of the New Hazlett Theater. [You can see where our reviewing biases often reside.] You can chart a progression from Mathew Tembo's set in 2015 — it was gorgeous but basically an evening of songs — to Afro Yaqui Music Collective's full-blown 2018 opera, Mirror Butterfly, which while rooted in song brought in an arcing storyline, dance, and martial arts. For a band, the CSA is a hell of a gig. $3,500 for two shows! Sign me up.
But this mentality also limits the potential of music. Yes, music as a very generalized artform is more mainstream than dance or theater or the spaces in-between. Music is more ubiquitous, infiltrating radio airwaves, movie soundtracks, TikTok videos, and basically every single commercial in a world that is evolving into one giant ad. But music is often cheapened by this exposure. Music and the labor needed to create it can be taken for granted. We all know that Spotify and streaming have devalued music to a point where past careers are not possible today. The music school as a market has churned out more fantastic players than the music industry cares to promote. So, why not invest in musicians? Given rehearsal space, production support, and ample time to prepare, surely a musician could extend their craft beyond what could have been achieved with a handful of after work rehearsals and a 30-minute slot sandwiched in the middle of a five-band bill.