REVIEW: Bailey Lee's PAPA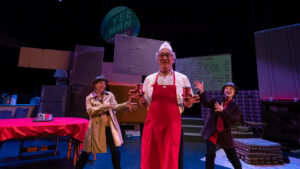 Review: Papa, a fantastical biography of Hall Lee, grandfather, father, draftsperson, chef

Writer and performer Bailey Lee creates an impressive ode to her Papa

Continuing Recital's sponsored partnership with the New Hazlett Theater, we are presenting a series of editorially-independent previews and reviews of the 2021–22 Community Supported Art (CSA) Performance Series. Below is our review of Papa by Bailey Lee, a collaborative response from Recital editor David Bernabo and guest panelist Ariel Xiu. Read their bios at the end of the review.

By David Bernabo | Photos by Renee Rosensteel.

In Papa, writer, co-creator, and performer Bailey Lee immortalizes her grandfather, her papa, Hall Lee, with an ode to his life, told through a fictionalized excavation of personal memories, family stories, and the kind of exaggerations that make stories worth passing down through generations. The play–tightly scripted and performed–is a touching look at sacrifice and dedication to one's family. Impeccable set and sound design along with vivid video projections match a trio of impressive performers. Surreal jumps into genre experiments break up what might otherwise be a gentle, tension-less story. In researching the past and contextualizing it in the present, Bailey Lee presents two stories–an evolving biography of Hall Lee and a near-coming of age tale of the character Bailey Lee.

The New Hazlett Theater's CSA series can be viewed as an experimental platform. It often allows an artist to test out ideas on a stage that is larger and more professional than the last place they performed. This often results in performances that could use a layer or two of refinement. But that's kind of the point. Our review panel, which has been in action since 2016, has certainly had a preference for the risky, the adventurous, and the weird. Failure is perfectly acceptable; encouraged, even. That said, there are performances that premiere with nary a flaw, where the execution of the concept easily earns a bevy of those 100% emojis. I would add Papa to this short list.

The cast of Lee (playing a fictionalized version of herself, among others), Arnold Y. Kim (Papa/Hall Lee, others), and Frances Dell Bendert (Mom, others), under the direction of Coleman Ray Clark, are phenomenal, each mastering a number of characters within Papa's lengthy script. These roles require the ability to convey grief, love, admiration, and insecurity, all while delivering slapstick physical comedy and mustering a few tears in this review panel's eyes.

At the age of 15, Hall Lee left the farmlands of China for McKeesport, PA, then a city that thrived on the manufacturing of steel. He worked in his father's restaurant, until it was knocked down by the city to make way for a mall that was never built. Hall then enrolled at the University of Pittsburgh, studied engineering, and later worked as a draftsperson at Westinghouse. We learn about these plot points as Bailey does. Some of Hall's history is revealed through dialogue between characters and some of it happens when the various characters take turns delivering monologues. Over the duration of the play's non-linear story, we also see scenes of Bailey's parents, learn of her father's passing, and get a glimpse into her father's private thoughts via his notebooks. These historical revelations reveal intergenerational tensions like managing expectations of parent and child, all while navigating the pressure to assimilate in the predominantly (and, literally, oppressively) White culture of America.