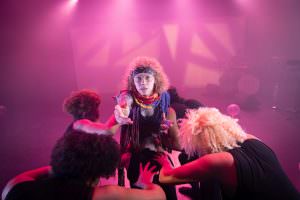 Photo by Renee Rosensteel
Continuing Recital's sponsored partnership with the New Hazlett Theater, we are presenting a series of editorially-independent previews and reviews of the 2019–2020 Community Supported Art (CSA) Performance Series. Below is our review of A Fire On Venus by Brittney Chantele, a collaborative response from Recital editor David Bernabo and guest panelists Emma Vescio and Ariel Xiu. Read their bios at the end of the review. And read our preview of the performance here.
By David Bernabo
Review: 'A Fire On Venus' Highlights Queer Love and Loss with Ease
Brittney Chantele transforms her recent album into a full-scale performance.
Musician and artist Brittney Chantele's album A Fire On Venus receives the big stage treatment with the addition of Kaylin Horgan's choreography and a fantastic seven-piece band. Taking on the theme of queer love, Chantele and her support team rip through 17 songs, allowing Horgan's storytelling style of choreography to enhance the nuance of Chantele's art, while creating more entry points into the music. The performance kicks off the seventh season of the New Hazlett Theater's Community Supports Arts performance series, which provides emerging artists access to space and tools slightly beyond their reach. While still a work-in-progress, Chantele's performance largely succeeds in lifting an already strong record, produced by Remy Vega and Treble NLS, to a higher level that could reach different audiences.
Surveying the current musical landscape, there is pressure to up the theatrics in musical performances. From Beyonce's monumental Lemonade visual album to Tierra Whack's brilliantly executed Instagram-ready Whack World to Simon Reynolds' recently formalized definition of Conceptronica, which places recent electronic music in an art world discourse, artists are adding layers of production to the once-simple album format. While A Fire On Venus is a major step in Chantele's creative evolution, the production retains a casualness that mirrors her music.
The band opens with the laid back album opener "Flaws & Imperfections." The song captures the neo-soul vibes that you might remember from the late 90s/early 00s, from Erykah Badu or Jill Scott. Dancers emerge from the wings. The band is tight. And Chantele cruises through the chorus-verse-chorus form with ease. It's a gently devastating anthem, "You're always saying no one's perfect / And you haven't figured it out / Then you proceed to wipe all my tears / And fill them with doubt."