PREVIEW: YS1 Yusef Shelton's "Ignite"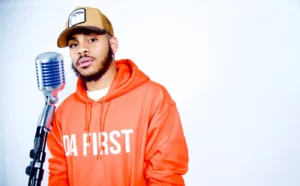 By Vanessa Reseland

Ys1 Yusef Shelton Da First Sparks Your Spiritual Side with Hip-Hop Experience "Ignite"

Artist Ys1 — Yusef Shelton Da First — is a true orator out of Homewood in Pittsburgh. I recently sat with him to discuss his upcoming hip-hop musical experience, Ignite, the first New Hazlett Theater CSA show of 2023. Each response to my questions flowed with the poetry, eloquence, and the quick-thinking that makes him an entrancing rapper. Delving into his background in hip-hop, Ignite is Ys1's first foray into a full-scale theatrical production. In the following conversation, he tells me what it took to get here.

Treat yourself to his deeply feel-good musings on spirituality, overcoming adversity, and the meaning of one's life, and you might feel a little more grounded, peaceful, hopeful.

Ignite has three showings, Thursday, February 16th at 8 PM and Friday, February 17th at 11 AM & 8 PM. Tickets range from $20–$30 and are available at https://newhazletttheater.org/events/ignite/.

Vanessa Reseland: Can you just tell me your full name and what you want to go by and the name of the show?

Ys1: My name is Ys1 Yusef Shelton Da First, and what I do is I rap to ignite purpose. I have a show February 16 and 17th called Ignite…and it's gonna be fire.

VR: That's a good catchphrase.

Ys1: Yeah. Bigtime.

VR: Can you tell me a bit about the format of your show? How much of it is hip-hop?

Ys1: I would say, like, 95% of it is hip-hop. The other five is storytelling through documentary-style films that will be playing during the show as well as some other musical-element performances. There's gonna be multiple different instrumentations throughout the show, but primarily, it's going to be a hip-hop experience, a rap performance. I'll have a live band, backup singers and dancers. Man, it's really a dream come true.

VR: It's your first time creating a theatrical piece?

Ys1: It's my first time putting on a full production. Last year, in 2022, I was booked for a [rap] show practically every other weekend throughout the whole entire year. This is my first time ever having the resources and this space, the platform to really host and curate my own event. This is my first time putting on my own production.

VR: How do you feel about that?

Ys1: Just last night we were having dance rehearsal, and it was my first dance rehearsal with the dancers, and I had two dancers on both sides of me as I'm looking into the mirror, and I got flustered with emotions. I'm like, "Hold on, hold on, hold on, stop the music. Cut everything off —

"Just be still for a second."

I really wanted to cry because I remember being a little 12/13 year old boy rapping with my homies in a rap group, and then now, here I am 10/15 years later, and I'm actually living out the dream. I've always imagined being able to do stuff like this. It's surreal to me.

VR: Can you tell me a little bit about that journey?

Ys1: It's been a very long journey, and I overcame a whole lot to get to this space. It really started when I was 13 years old, and I was in a rap group with a couple of my homies. I was not even trying to be a rapper at first. My friends convinced me to get on songs, and from that space, I always used music as an outlet for me to be able to express what was going on around me in my community and my family, and it was the thing that I was able to use to be able to mark the time of where I was at that point and space in my life.

Around the time I was 16 years old, I had a very, very huge change and shift in my life where I accepted Jesus into my heart, and it opened me up to a whole new path for life. I started making music that would be coined as "gospel rap." It was very different from the rap that I was making when I was growing up and in the hood and living the lifestyle.

Now, the music that I make in this space that I'm in is really music that will give you a bit of both worlds. That's why my rap name is Ys1 because I'm a holistic individual. I'm not just giving you the me that's from the streets that's putting on a facade of, "I'm so hard and so tough and so gangster," but I'm also not just giving you, "I'm this church boy, and I'm so straight up that I don't make no wrong decisions." The music that I make is well-rounded. I'm able to share where I come from and the things that I've experienced and how I got through those experiences, but I'm also able to share the principles of God, and I'm able to share my morals and my character and my values and the things I truly believe in.

VR: Can you talk a little more about faith and breaking the cycles of adversity?

Ys1: Part of why my brand is called "Da First" is because I really want to encourage people to be the most genuine and authentic version of themselves. For me, faith was a tool that I used to discover who I am. If I am a creation, then there must be a creator, and if there's a creator then there must be some sort of intention for my being. There must be a reason why I'm on Earth. So I always encourage people to try to get back to the original first reason why you were placed on this Earth.

VR: Some people who might not have spiritual side to them might be a little nervous to hear that this is about faith or has to do with God. What would you say to them about your show?

Ys1: I don't make my music for people who are religious. I make my music because I was a nine-year-old boy who did not have either one of his parents. I was raised a Muslim, but I didn't know what to believe fully. I understand what he was thinking when he didn't have faith. I understand that whole frame of thinking, and so I speak to him directly, and I know that if I could hit his heart, then there's a lot of other people who will relate to that message.

There is grief that happens a lot in the city of Pittsburgh. There's a lot of sorrow and mourning because of death. We understand that people don't really have the space to know what to do with that grief and that sorrow. We created that space where other people could come and receive that healing through music.

VR: When it comes to this show in particular, was there a story or a concept first?

Ys1: It's the story of how I got here. If you come to the show, you'll see it's me literally showing you where I was as this boy who was lost and my whole journey of navigating adolescence and turning into an adult and now being an adult and walking in purpose and living life passionately on fire. It's a concert with a storyline. It is a very big, explosive rap deliverance. That is for sure.

VR: Are you the sole performer in this show?

Ys1: There will be other individuals interwoven throughout the show who will give you different elements such as singing or violin. I have a drummer and someone who will play keys and play guitar. They'll each have a spotlight to be able to showcase their abilities. These are all individuals I have seen in the city of Pittsburgh who are working toward moving humanity forward with really dope music and being very great at their craft. I've seen that they were rising as young stars in the city, and I just wanted to highlight each one of these individuals.

VR: Who are some of your collaborators?

Ys1: Drew Bayura is my MD [musical director]. He is extraordinary. He plays so many instruments and is responsible for helping put together all of the live arrangements. I'm grateful for Broughton Ganaway, another amazing individual who does lighting and projection. He is literally a genius. I have another friend named Dejah Monea. She could literally sing the roof off the building; she's amazing. Two accompanying artists, Aris Ross and Stacia Vonn. They have such a warm, generous, loving spirit. Tomi Adebayo in an amazing violinist. RJ Williams, this kid is crazy. He plays drums; he's 18 years old now. He's been traveling the world with a whole bunch of different people in the industry, and I'm really excited to have him be a part of the show because his energy is everything. He brings so much fun and so much joy into the atmosphere. We also have my man, Marcel Johnson. He is going to be the host of the whole entire show. He's a transformational speaker and a life coach, and he's also my best friend.

The dancers! We have Kontara Morphis and Rickia Davenport. They're very childlike in a way that they make learning these routines fun. They're both educators as well. I'm very grateful for y'all.

VR: Can you touch on your experience being a person of color from Pittsburgh, being an artist and having this platform to inspire young Black kids who need to see people like you accomplishing their goals.

Ys1: The neighborhood that I'm from in Pittsburgh is Homewood. Homewood has been very synonymous with gun violence and death and drugs and addicts, but I really want to shift the narrative to show that you can be from Homewood and be an amazing individual. There are some very, very dope people that come out of Homewood. Why I think it's so important for me to be consistently elevating is that I have a story that is so relatable to so many people. I haven't really seen anyone in the mainstream that has been able to tell the story of what it was like coming up in Homewood — the community and the love that was actually in that community. I didn't choose to have that story. I was just given and blessed with that story to be able to tell it. I have a message and a story that will register with a lot of other neighborhoods in America, in Pittsburgh, in Homewood. I know it's gonna hit home with some people.

VR: So, after your audience sees the show, what would you want to be running through their minds on the way home?

Ys1: So, what I know that they'll take away from this show is that they will walk away from this experience being filled. They will be fulfilled knowing there is love for them specifically. Whenever they walk away from this show, they will feel inspired to do what they were sent to Earth to do.