PREVIEW You Can Call Me Al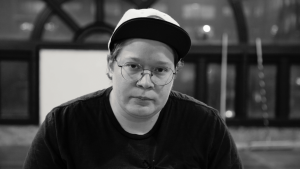 Recital continues our partnership with the New Hazlett Theater by publishing a preview and an editorially-independent review for the five performances in the 2018–19 CSA Performance Series season.
Throughout the season, Recital is meeting with each of the artists to bring you a brief profile of them and their work in the days before their opening performance. We will publish a considered review or a post-show discussion with the artists for each performance, developed from post-show discussions with a consistent panel of local experts in related disciplines.
by David Bernabo
The Intimate World of a Story: Ali Hoefnagel's "You Can Call Me Al"
The sixth season of the New Hazlett's Community Supported Arts performance series is filled with ambitious performances, from Afro Yaqui Music Collective's dance-infused big band jazz opera to Felicia Cooper's puppetry for children to a contemporary opera from local chamber group Kamratōn. At the center of the season is performer Ali Hoefnagel and the piece You Can Call Me Al. Their performance is not quite the interdisciplinary extravaganza that surrounds it, but that doesn't make it any less ambitious. It's a story, a long-form story told by Hoefnagel with original music by Gray Buchanan, that begins with Hoefnagel's birth — "almost every birth story is unique" — and continues through to the current moment.
"I've only written stories that top out at about 15 minutes," says Hoefnagel. "So, this was a pretty unique challenge to write a 60-minute story." It's an equally challenging feat to fit the contents of one's life into a 60-minute window. Which events do you include? Which do you exclude? In the opening to the piece, Hoefnagel poses these questions to the audience, asking, "Why do we retell our stories? Which ones do we retell?"