Pittsburgh Post-Gazette: Rapper Ys1 will 'IGNITE' his life story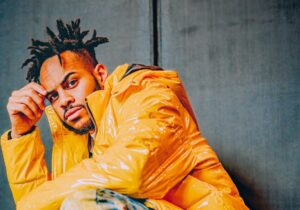 Courtesy of Ys1
Ys1 will 'IGNITE' his life story at the Hazlett
By the time he was a young teenager, Yusef Shelton was well on his way to being an inner-city statistic.
The 26-year-old rapper who goes by Ys1, aka Yusef Shelton Da First, grew up in Homewood with a single mom. She was "out of the picture" by the time he was 9, he says.
Before he was even in middle school, he was engulfed by gang life, leading to an incident when he was 14 that accelerated a change.
"I ended up getting shot at that summer," he says. "One of my close friends got hit, my cousin got grazed and a bullet that was intended for me just flew past my head. It was in that moment, just after that moment, that I realized I don't just wanna die in the hood and just become another statistic."
What happened next is part of "IGNITE," Ys1's autobiographical concert experience this week at the New Hazlett Theater as part of its 10th season of Community Supported Art.
After that scare, Shelton moved to Phillipsburg, N.J., around 2011, to live with a distant uncle. In Pittsburgh, he had been part of a hip-hop crew called Swag Official, inspired by his love of Gucci Mane, Lil Boosie, Soulja Boy and Wiz Khalifa, and then in Jersey, he says, "I really studied everything that J. Cole and Kendrick were doing and just watched the whole rap game because I just knew at one point in time I would really love that to be an option,"
That was secondary, though.
"I was primarily focused on trying to make it to the NFL," he says, "and rap was the plan B. I wanted to be an NFL player-slash-rapper-slash-motivational speaker."
Because of his uncle's death, as a high school football player, he had to move around to various people's houses, but he was driven by both fear and ambition.
"Coming from the inner city," he says, "you really don't see a lot of people doing things that are out of the normal and you think you'll be stuck there your entire life, so you don't really see more possibilities for yourself. Moving to New Jersey was the first eye opener for me to be like, 'Man, there's so much more to life, and I can pretty much do anything.'
"But it wasn't until I was around 16 years old that I accepted Jesus Christ into my heart. That's where I began this path of self-discovery and where I began to sprout into this individual who's just very consciously aware of the decisions that I make."
Shelton did go on to play football (wide receiver and free safety) at Albright College in Reading, Pennsylvania, but dropped out after one semester, overwhelmed by taking on too much between the team, the classes, the gospel choir and other "distractions."
At a loss for what to do, in 2017, he reached out to his grandmother and made a trepidatious move back to his old stomping grounds in Pittsburgh.
"At first, I was really trying to keep the positive mentality," he says, "and everybody in the hood was able to really recognize that I changed, that I was different, and they respected me. But being around the environment just pulled me back in and I definitely reverted to some of my old ways and adopted some of my old ways of thinking, and that led me into a further state of depression and anxiety."
This time, the remedy was fasting, praying and getting back to the church.
"I had this grandiose vision for my life when I was around 16 years old," he says, "and I knew that the only way that I'd be able to achieve that vision was to get back into alignment. And so, 2019 was the year that I really decided to take my faith more seriously."
He began to build a following for the freestyle raps he released on social media every Thursday and, in 2020, he won Point Park University's inaugural Vigor, Vibe and Venture competition to establish himself as a music entrepreneur. From the Mac Miller Foundation, he acquired equipment to enhance his recordings.
While working two part-time jobs — one with school kids that was suspended due to the pandemic — he was collaborating remotely with Maya Brown, a hip-hop producer in Texas. She produced the singles that became "Da First Mixtape." He's since displayed his growth and his natural flow with two more, "Off Days" and "Invite Only."
When he's writing, he says, "I just put myself in the 9-year old Yusef shoes. I was in the streets and I understood that mentality, so whenever I make my music, I'm just thinking about speaking to that young kid. I'm not really focused on just like trying to make broad music. I have a specific target and it's just my younger self, the one who didn't have a purpose, the one who didn't have parents, the one who didn't have guidance. And if I could like just give him some guidance through my music or just like really just be able to speak to his struggle, I know he would be able to relate."
What also sets Shelton apart as a performer is using a live band. At the Hazlett, he will be joined by pianist/guitarist/music director Drew Bayura, drummer RJ Williams, violinist Tomi Adebayo (violin) and singers Dejah Monea, Aris Ross, and Stacia Vonn, along with choreography by Kontara Morphis and dance by Rickia Davenport.
"Last summer," he says, "I performed with a live band for the first time and I loved the energy. I think it just makes the music come to life a little bit more. It goes from you just being a regular rapper on stage to you having a whole concert experience. For me, it's exhilarating when I hear those heavy drum hits and that electric guitar. It really amps me up and I just vibe off of that."
'IGNITE' is at the Hazlett, North Side, at 8 p.m. Thursday and 11 a.m. and 8 p.m. Friday. Tickets are $20 to $30; newhazletttheater.org.
First Published February 14, 2023, 6:00am