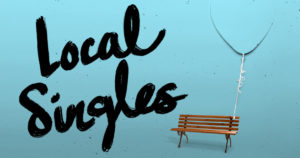 Recital continues our partnership with the New Hazlett Theater by publishing a preview and an editorially-independent review for the five performances in the 2021 CSA Performance Series season.  Throughout the season, Recital is meeting with each of the artists to bring you a brief profile of them and their work in the days before their opening performance. We will publish a considered review for each performance, developed from post-show discussions with a consistent panel of local experts in related disciplines.
Preview: Nick Navari brings new musical "Local Singles" to New Hazlett Theater
By David Bernabo
Online Speed Dating! 55+ and single?! Horny Singles in Pittsburgh!
Are you educated and single? Casual hookups! Cookery Class Dates!
Single and Ready To Mingle! Saturday Singles Dress-Up!
You may have noticed a drift towards the virtual in the local dating scene. Where meet-ups used to happen in bars and at parties, now online dating plays a much larger role. The pandemic hasn't helped, stranding a number of local singles in their homes. Singles nights, whether at a church or community center or neighborhood wine bar, have been on a steady decline, although a vaccine-fueled renaissance may be on the horizon for late summer. So, it's fitting that playwright and musician Nick Navari's new musical Local Singles is set in Pittsburgh's last surviving support group for the lonely. Over a series of meetings, five singles will gather, bond, and attempt to leave their loneliness behind them.
"Unlike what the title suggests, they're looking for love, but not in a typical way," says Navari. "I tried to write something that surprised me; something that I don't often see in media or theatre. I wanted to talk about familial love that happens outside of a family unit and how that can grow unexpectedly."