PREVIEW: Kelly Trumbull's Morning Reckoning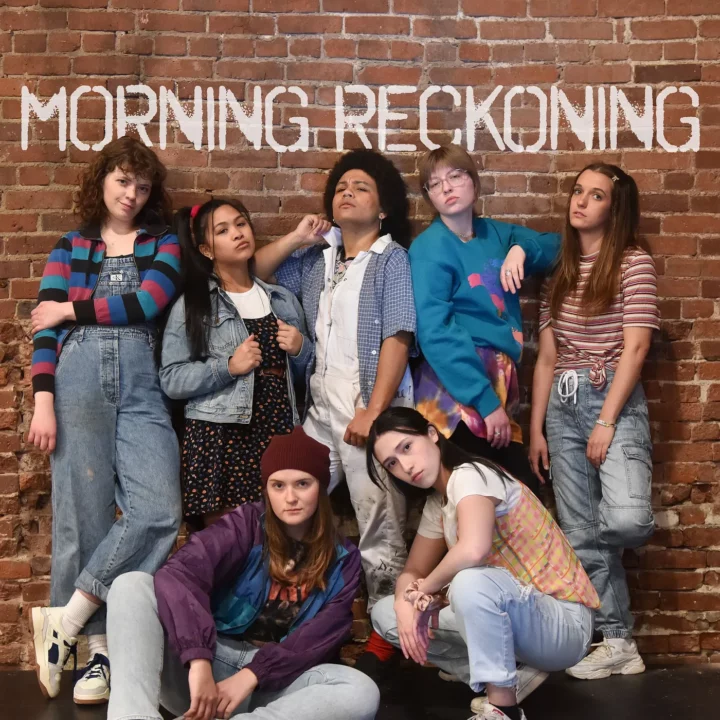 90s Boy Bands Unlock Millennial Nostalgia in Kelly Trumbull's Morning Reckoning
By Vanessa Reseland
Photos by Louis Stein
Continuing Recital's sponsored partnership with the New Hazlett Theater, we are presenting a series of editorially-independent previews and reviews of the 2022–23 Community Supported Art (CSA) Performance Series. 
Kelly Trumbull is an actor, director, and collegiate theatre arts educator. With Morning Reckoning, she adds "playwright" to her multi-hyphenate status. A first-time playwright, Trumbull approaches her work with thoughtfulness, humanity, and a delightful sense of humor. Her upcoming play, the final show in the 2022/2023 CSA series at the New Hazlett Theater, brings those of us who came of age with N*SYNC and Backstreet Boys back to the hormonal mood swings of middle school. By wearing "The Shape of her Heart" on her sleeve, Trumbull hopes her writing encourages "Everybody to Want It That Way". No Strings Attached.
Morning Reckoning has three showings, Thursday, April 20 at 8 PM and Friday, April 21 at 11 AM & 8 PM. Tickets range from $20–$30 and are available at https://newhazletttheater.org/events/morning-reckoning/.
Vanessa Reseland: Can you tell me a little bit about the style and format of Morning Reckoning?
Kelly Trumbull: It's a relatively traditional narrative in the form of a one act play. It centers around a character named Candice who is the president of a teenage boy band fan club in the year 1999. Candice is the protagonist, and everyone circles around her. Her main foil is her best friend, Trish. Eighth grade is such a weird time in life. Each scene follows the trajectory of that group through time and the small hurdles they encounter, the larger hurdles they encounter. The inciting incident is the desire to add a new member [to the fan club] and the controversy that creates. The fan club consists of five members, and they're thinking of adding a sixth member, who is the new girl in town. We never see the boy band. We only see the fan club on stage.
VR: The 90s boy band is such a specific piece of —
KT: — pop culture history, right?! I was a huge boy band fan growing up, so that was part of the inspiration for this. I loved New Kids on the Block. I loved N*SYNC, Backstreet Boys. I knew all of their songs and had posters of them, so…[laughs] that was part of the inspiration when writing this.
VR: Did you ever participate in one of the real life fan clubs?
KT: YES! Well, it wasn't a formal fan club, but when I was in 8th grade, the same age as the girls in this play, my friends and I would get together. We would dress up as boy band members and lip sync and perform their songs. So it was never a formal club, but we definitely celebrated them.
VR: Is any of that on video?
KT: Actually — I don't have it, but I do think one of my good friends from high school has much of it documented. I'm frightened. I'm really frightened. I feel like it's one of those moments where when it's happening, you're like, "I am so cool," and then now you're like, "no."
VR: I think it's cool again.
KT: Cool, good. I'll have to reach out to her, see if she can dig it up. [laughs]
VR: Embrace it. Ok, so when reading about your works, in general, I was catching phrases like, "[dealing with] the fragility of the human experience," and I know that in this show, there is mature language and themes and descriptions of suicide, even, yet to hear what this show is about, it seems so light and fun. Can you tell me anything about that duality?
KT: Yes. Absolutely. I think these moments of fragility, these higher stakes are interwoven with the lightness of the general meetings of this club. It's really fun to see how these characters deal with everyday situations and then also how they deal with situations that are more adult and more challenging to navigate. I really wanted to explore both sides of that because I think that's something that is so true of most people's formative years. Sometimes when we are teenagers, early teenagers especially, we don't really understand the magnitude of big moments, or we're trying to figure out what is a big moment and what's not. We're trying to communicate that there are these huge changes going on, and they're all barrelling towards you so quickly it feels hard to control or navigate them. There are of couple moments in the play that deal with those heavier moments, and those are just interwoven with the humor of what you would imagine an eighth grade boy band fan club would talk about and partake in.
VR: You can paint that concept with a very broad brush, but it sounds like there's a lot more to it.
KT: I think there is. I was trying to find some depth with it while also keeping it fun and energetic. We'll see how it works out!
VR: Is there anything about what you created that has changed from the time that you applied for the CSA series to now?
KT: Absolutely. When I applied, it was relatively close to the form it's in now, structurally, but I have added a lot more depth both in regard to the story and in regard to the characters. My vision is for this to become a two-act show and for all of the teenagers to be played by women who are my age, and then in the second act, we see them in the present day, so they play their 14-year-old selves, and they play their present-day selves. We see how the implications of the event that happens when they are 14 impact them into adulthood and how each person is affected by it differently. I haven't written all of Act II, so this particular iteration is just the first act, and it will be played by many of the college students that I teach! They'll be playing the 14-year-olds.
VR: They must be so excited.
KT: I am excited.
VR: I'm sure they are too.
KT: I think so. I hope so. As an educator, I really try to create spaces for my students, to collaborate with them because I figure, if I'm doing it right, they should be people that I want to work with. They always make me look good, and it's really fun to grow with them in that way, to have our relationship evolve into collaborators and friends.
VR: Are you an actor in this production?
KT: No, I am directing it.
VR: Will this scale be a first for this production?
KT: Yes, aside from hearing it on Zoom and one staged reading of this script at the University of Pittsburgh, but this is the first fully staged, fully realized production.
VR: We'll have to see this production and then wait for the sequel of act two.
KT: I know! I have to write it now!
VR: Just so I'm definitely clear, is Morning Reckoning the name of the —
KT: — the boy band?
VR: the boy band?
KT: It is. It's the name of the boy band. [laughs]
VR: Is there anything implied in that title?
KT: There is something in that title, but I don't want to tell you too much because I want you to be surprised when you see it, but, I think, when you see it, you'll be like, "Oh! Ok, cool!"
VR: In regard to the social dynamics of the world after quarantine — obviously, this play takes place in 1999, so that's not necessarily part of the storyline, but is there any kind of thread there that people could pick up on in terms of the social microcosm?
KT: I think this play is like putting the 8th grade social experience under a microscope and examining it. That's something that I hope makes people go, "Oh no!" and laugh and remember things and cringe and remember things and cry and remember things. I'm trying to get all of that in there. The actual creation of this piece was directly related to the pandemic. When everything in the performing arts, which is my main profession, came to a halt, I decided I was going to write a play! I never would have had the time to step back and put my energy and focus into writing a play. I've worked a lot as an actor, I've worked a lot as a director. I teach at the University of Pittsburgh, I'm a full time faculty member in the Theatre Arts Department and an adjunct at Carnegie Mellon — I teach the opera singers acting. This is the first play that I have ever written. There is something about writing a play that you've created that is so much more vulnerable, for me personally. I'm like, "Do you like what's inside my brain?"
VR: Since you grew up in Pittsburgh, do you have any friends from that era who are coming to see the show?
KT: Oh, yes. Many of my high school friends are coming. They know they were the inspiration for it. They're very excited to see it. I know they'll be like, "Oh my gosh! We had that exact conversation about Destiny's Child!"
VR: Because you did!
KT: Because we did.
VR: Someone has to document these things.
KT: It was really fun writing this and thinking about all the things that I liked and then googling to make sure that my recollection of the year was accurate. It was really fun to be like, "Yes, YES! Christina Aguilera WAS very big during this time!"
VR: It wasn't just our high school.
KT: Everybody loved her!
VR: Hometown Hero.
KT: Unfortunately, this play takes place in Wayne, NJ, not in Pittsburgh, so I couldn't make that callback, but I did actually think of shifting it just to have that Christina Aguilera moment of [dialogue], like, "I saw her at Ross Park Mall once!"
VR: What are you hoping people think about or take away from their experience in the theatre that night?
KT: Well, without revealing too much, the play ends on a very hightened note, so my initial hope is that they are a bit gobsmacked and shocked and, maybe, taken aback and almost thrown off course a tiny bit. But my hope for when they're actually driving home and thinking about it is that they think about the greater meaning of that moment and moments in their life that have shaped them to make them who they are today. The people that we are stay with us forever. Eighth grade Kelly is still here. Everything that happens to us in life remains a part of us and influences us forever.
The cast is comprised of Alex Manalo, MaTia Martin, Jalina McClarin, Mia Kurlfink, Claire Sabatine, and Julia Kreutzer. The design team includes lighting by Hope Debelius, set by Tucker Topel, and costumes and props by Lindsay Goranson. Gabriella Castridad is a producing associate and swing, and Addi Twig is creating original boy band songs for the show.