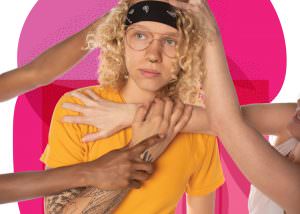 Recital continues our partnership with the New Hazlett Theater by publishing a preview and an editorially-independent review for the five performances in the 2019–20 CSA Performance Series season.
Throughout the season, Recital is meeting with each of the artists to bring you a brief profile of them and their work in the days before their opening performance. We will publish a considered review or a post-show discussion with the artists for each performance, developed from post-show discussions with a consistent panel of local experts in related disciplines.
Brittney Chantele Brings A Fire On Venus To A Larger Stage
The New Hazlett CSA series kicks off Season 7
It's that time of year when the skies begin to darken and the weather hits peak pleasantness — lows 70s with gently rolling clouds. Lazy summer days are over and the few remaining cookouts may now be accompanied by sweaters and hoodies.
I'm at Mr. Small's Theater in Millvale to see interdisciplinary artist Brittney Chantele kick off WPTS's Back to School 2019 concert. As the audience starts to pack in, Chantele's band enters the stage. And it is quite a band — keys, guitar, bass, drums, trumpet, Chantele on the mic, another vocalist, and an ASL (American Sign Language) interpreter. Their opening song is tight, working out some three over two rhythms with a laid back groove. Chantele has a casual flow to her delivery, questioning "look at my flaws, my imperfections, if I fixed them would you reject them, would you love me, call me heaven?" in a song about the pressures of appearance and perceived imperfections.
The band is playing songs from Chantele's recent album A Fire On Venus, self-released this past April.
"This is an album about queer love and everything that comes with it — sadness, passion, anger, excitement," says Chantele. "It was really difficult talking about past relationships, especially relationships that I have gotten over. Those songs don't hold the same heavy weight that they did when I first started writing the song. But I thought it was important to revisit those songs — to dig back into those emotions — to show how much I've grown within relationships, within love, and within loving myself."