Pittsburgh Post-Gazette Talks Local Singles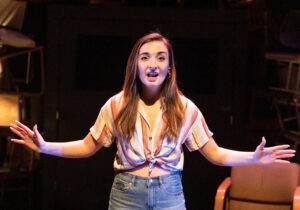 The Pittsburgh Post-Gazette interviewed CSA Artist Nick Navari about all things "Local Singles."
Pittsburgh-set filmed musical 'Local Singles' to premiere at New Hazlett
By Tyler Dague
When it comes to writing and composing a stage musical, Nick Navari makes the time no matter what he's doing.
He sang songs and tried out dialogue and recorded it in his car during his commute to work Downtown from his home in Pine. On his lunch breaks, he wrote at Einstein Bros. Bagels on Grant Street. On his ride home, he would record more songs and dialogue.
"When I got home, I would give myself an hour to eat dinner with my family, which they were probably appreciative of. I would head upstairs to listen to the one to three hours of footage I had recorded and tried to put it into the new score or transcribe it or try to play it on the piano to see if anything worked," he said.
The product of all that work, the musical "Local Singles," makes its digital premiere at 8 p.m. Thursday and 11 a.m. and 8 p.m. Friday at newhazletttheater.org. Tickets are pay as you like.
The ensemble musical centers on Penny, a pregnant woman who discovers the last support group for lonely people in Pittsburgh after her boyfriend leaves her. The five people in the support group may not find love or happiness, but amid the ups and downs of life, they find each other.
The idea came to Navari when a friend of a friend went to a singles group at a church in 2016. In the summer of 2019, the story became a six-month project consuming his hours when he wasn't working as an investment research analyst.
The music of "Local Singles" has the pop-rock flair of contemporary musicals. Navari said he took inspiration from Jason Robert Brown's "The Last Five Years" and the Tony-Award winning musical "Once." He played an hour's worth of the score with commentary for Pittsburgh Fringe Festival's virtual events in May.