Local Singles on 90.5 WESA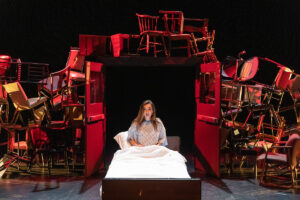 90.5 WESA interviewed CSA Artist Nick Navari in preparation for the debut of his new pop-musical "Local Singles."
Lonely Pittsburgh Singles, Singing, In New Musical By Area Composer
By Bill O'Driscoll
The New Hazlett Theater presents "Local Singles": 8 p.m. Thu., March 25, and 11 a.m. and 8 p.m. Fri., March 26
Navari's debut stage work, "Local Singles," premieres this week courtesy of the New Hazlett Theater's Community Support Art Performance Series. The production airs as an online film Thursday and twice Friday.
Navari starting writing and composing "Local Singles" a few years ago, he said, largely in stolen moments – humming prospective melodies during his car commute, writing on his lunch break. The show was inspired by horror stories he heard from friends about their experiences in a local singles group.
"That got my wheels turning about what would happen if we had this group of just like misfits and oddballs," he said. "Just playing with the idea of that singles group was a delight for me and I just thought, 'Let's just run with it and see what happens.'"
"I was fascinated by people coming to a group looking for romantic love, but instead finding this familial love outside of the typical family unit," he added. A second-act tragedy tests the group in new ways, he said.
The show, with its pop-rock-style tunes, debuted online in 2020, when Navari performed them from his living room as part of the virtual Pittsburgh Fringe festival. The full production opens the eighth season of the New Hazlett's subscription series that nurtures new stage works.