TribLIVE Covers Local Singles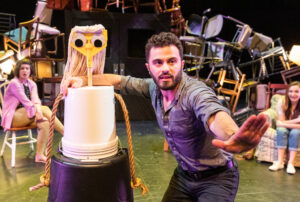 The Pittsburgh Tribune-Review went behind the scenes of Local Singles with creator Nick Navari.
Pittsburgh dating scene inspires New Hazlett Theater's 'Local Singles'
By Shirley McMarlin
He heard it from a friend, who heard it from a friend — and it inspired him to write a musical.
The playwright is Nick Navari of Pine, the musical is "Local Singles" and the story is about a support group for local singles.
"A friend of mine told me about a friend who was going through some things in a church singles group," said Navari, 24. "Some of it was funny and some of it was really sad."
Although the resulting work is "completely fictional," he said, the friend's story "got my wheels turning."
The New Hazlett Theater in Pittsburgh's North Side will stream a filmed version of "Local Singles" at 8 p.m. Thursday and Friday and 11 a.m. Friday via Crowdcast.
The project was funded through the theater's Community Supported Art Performance Series.
"'Local Singles' follows the five members of the last-surviving support group for lonely people in Pittsburgh," Navari said. "When Penny's boyfriend makes a rushed exit out of her life after learning of her pregnancy, she turns to the group for answers — and leaves with something unexpected.
"I was intrigued by the idea of characters seeking romantic love, only instead to realize their happiness in finding familial love outside of the typical family unit," he said.