Humans of SSB: The New Hazlett Theater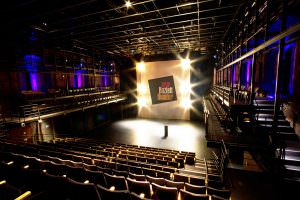 Pittsburgh is a town full of rich history that can still be seen through the various revitalized buildings and businesses that remain prominent throughout the city. The New Hazlett Theater in the Northside is a prime example of this through its successful reinvention over the years. From its original assembly in 1889, The New Hazlett Theater, originally known as the Carnegie Music Hall, has remained a historic landmark and asset to the local performing arts community. Although it has undergone some close calls, including the threat of demolition in 1967 and years of sitting empty in the early 2000's, the structure and its historic, Richardson-Romanesque style and grandeur still remain intact through the help of funders, dedicated staff, and a supportive performing arts community.
The New Hazlett Theater, dubbed as "an incubator of the arts in Pittsburgh", is a unique space that showcases anything from dance and theater performances, to weddings and corporate events. Its thrust configuration provides an intimate experience that cannot be found in many of the traditional performance spaces in the city. It allows you to feel as though you are part of the performance, putting you up close and personal with the artists. René Conrad, the Executive Director, would describe the theater as a "a creative and inclusive community", one that showcases a wide range of talented performers from a variety of disciplines.
While walking through the building, the historic look and essence of the theater could not be ignored, and neither could Ms. Conrad's passion for the performing arts community and her work at The New Hazlett Theater. While working full-time in the corporate world, Ms. Conrad stayed active in the arts by volunteering in a variety of non-profit theater spaces during her career. Eventually, through some twists and turns, Ms. Conrad traded in her for-profit management work for the long hours of non-profit planning, budgeting and fundraising. Even with all the pressures of working in the non-profit world, Ms. Conrad believes her work with the theater is "the best job in Pittsburgh", allowing her to work with such creative and inspiring people.