Presented by Alia Musica
The Pittsburgh Festival of New Music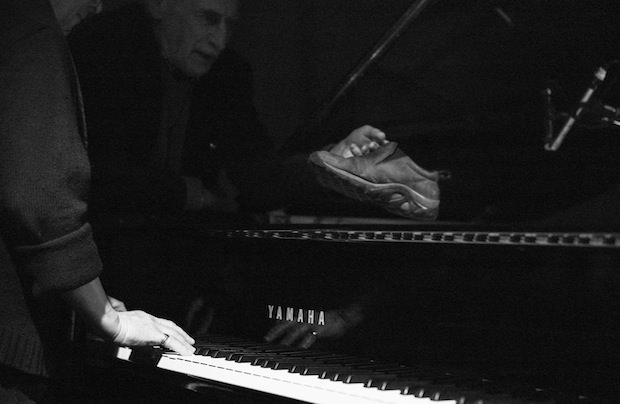 The Pittsburgh Festival of New Music is a four day event spanning a wide range of contemporary chamber music in and around various Pittsburgh locations.  The New Hazlett Theater plays host to several of these events, including:
Bugallo-Williams – May 22  |  7:30 PM
The Bugallo-Williams continue their exploration of Kurtág's piano duo repertory, and of the two-piano renditions of Stravinsky's works — this time with Agon, the serial ballet with which the Russian master surprised the world in 1957. Plus works by Ligeti, Williams herself, Garcia-De Castro, and more.
Berio's Folk Songs – May 23  |  7:30 PM
Music by Haas, Matthew Heap, and Eric Moe.
Pittsburgh Soundpike – May 24  |  2 PM
Pay for your ticket as you exit — the longer you stay the more groups you'll see, the more music you'll hear… and the less you will pay!
A unique experience of joint discovery of the most active Pittsburgh new music organizations. From seven-year-old organizations (Alia Musica, ELCO) to the freshest initiatives (Tepki, Directions Duo), featuring Pittsburgh's prime quartet Freya in a performance of Steve Reich's seminal Different Trains, alongside with music by Cage, Brett Dean, Federico Garcia-De Castro, and premieres by Pittsburgh composers.
Rzewski plays Rzewski – May 24  |  7:30 PM
American maverick composer and pianist Frederic Rzewski has made his home in Brussels since the 1970s. Now 76, his appearances in the US are less and less frequent. Compared by turns to legendary pianist Glenn Gould and blacklisted folk singer Pete Seeger, Rzewski's works are often anarchic, sometimes satirical, and always powerfully virtuosic. Rzewski's first-ever performance in Pittsburgh is long overdue.
Clocks in Motion, Duo Scordatura – May 25  |  5 PM
A chance to hear these two visitng ensembles Clocks in Motion and Duo Scordatura, who will be in Pittsburgh to participate in other events of the PFNM. To open the concert, Hope Academy's ELCEO presents excerpts from The Rite of Spring arranged for student orchestra by Music Director Federico Garcia-De Castro.