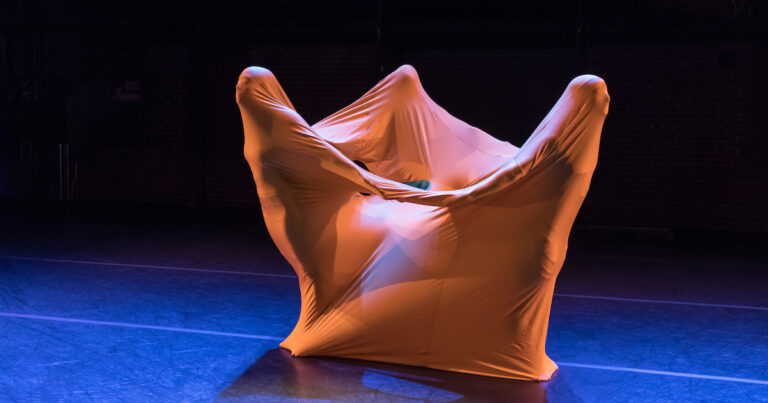 Using a combination of touch sensors, soundscapes and wearable fabric sculptures, artists H. Gene Thompson, Arvid Tomayko, Anna Azizzy, and Ru Emmons create a language around the push and pull of human connection.
Elastic wearables become membranes to resist and barriers to break, both joining and separating. The performers activate their environment with embedded sensors that control the soundscape, taking the audience on an abstract journey of language through touch and separation.
View this video on Vimeo for timed stamped questions.
H. Gene Thompson's work questions human connectivity through the exploration of wearable fabric sculptures, creating spaces that challenge social boundaries. Morphing wearables with movement, Thompson creates images that distort the state of stable consciousness.
Arvid Tomayko is an experimental musician and multimedia artist. Their unique auditory and visual experiences explore the intersection of electronic sound performance, process driven composition, and interactive installation.
Anna Azizzy is a performance artist, video artist, and experimental musician. Their work creates space where laughter leads to learning and they are passionate about inserting femininity, humor, tenderness, joy, life, queerness, honesty, and more into the spaces they occupy.
Ru Emmons is a queer, nonbinary Pittsburgh native. For Emmons, movement is a way of reclaiming their scrambled body and inviting others to do the same.
Acknowledgments
Photography: Renee Rosensteel; Video: Jeremy Fleishman