Co-presented by the New Hazlett Theater
A Letter Compiled From All Letters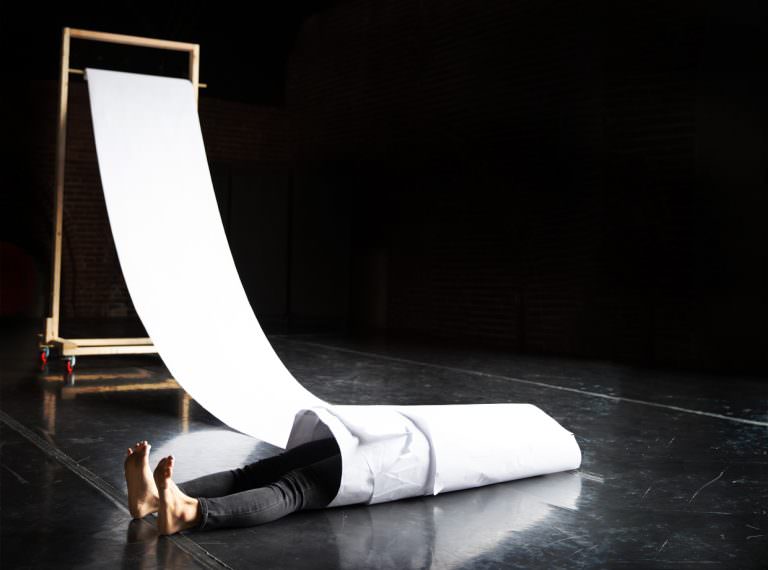 As tools for communication shift from pencil and paper to keyboard and screen and definitions for what is actual and virtual continue to blur, the creators for A Letter Compiled From All Letters consider connection and communication in a digital age. In this evening-length, contemporary dance work that merges live performance and video projection – wood, paper, pencil, devices, objects, text, movement, and sound all start to collapse and meld and affect each other as human bodies try to resist, succumb, absorb, utilize, control, and react to them all.
This project began with letter-writing. Collaborators Maree ReMalia (director/choreographer), Gigi Gatewood (multimedia artist), and Lillian Cho (performer) asked friends and acquaintances to write them letters sharing moments of significance and the impacts of digital communication in their lives. Aspects of the letters influenced early explorations in the creative process. Since these early stages, the work has evolved in unexpected ways.
The collaborative team works with cross-disciplinary cast members David Bernabo, Joseph Hall, Moriah Ella Mason, Jil Stifel, and understudy Sarah Friedlander. The artists feel into the physicality, pace, and content of analog letter writing alongside the fleeting communication that exists in virtual spaces. Live and recorded sound indicate spaciousness and fullness of time. The performers activate a mobile, wooden set designed by visual artist, Natalia Gomez and are costumed by designer, Emily Vallozzi.
This project is presented in partnership with New Hazlett Theater through a new pilot program aimed at helping artists who are shifting from emerging to established status. Funding for the A Letter Compiled From All Letters was provided by the A.W. Mellon Grant and Investing in Professional Artists Creative Development Grant of The Pittsburgh Foundation, Opportunity Fund, Pennsylvania Council on the Arts (a state agency), The Heinz Endowments Small Arts Initiative, Amherst College Guest Artist Series, Kelly Strayhorn Theater Fresh Works Residency, PearlArts Studios PearlDiving Movement Residency and New Sun Rising donor, Courtney Harris.
For ticket inquiries please contact Anne Morgano at anne@newhazletttheater.org or by phone at 412-320-4610 ext 17.
For more information on accessible seating or assistive listening devices please contact Courtney at 412-320-4610 ext. 16 or courtney@newhazletttheater.org