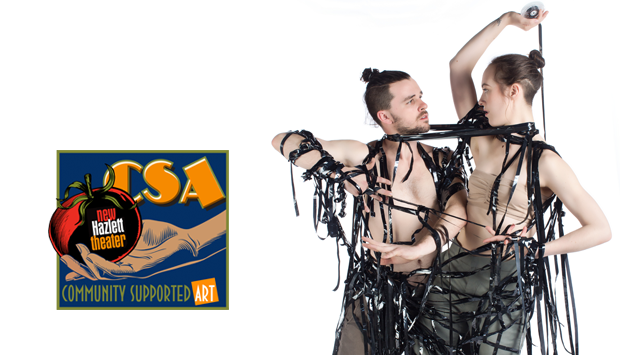 CSA Artist: slowdanger's memory 4
Part of the CSA Performance Series
Thursday, June 9
8PM
slowdanger Q&A
memory 4 Review
"I am what I remember…what I remember, is what I am."  memory 4 follows performers through a landscape of seemingly insurmountable tasks, spiraling to ascension. Throughout the ritual, memory decays and is redefined in each passing moment.  We begin to see memory as a place one can enter to re-experience and reflect, to move forward or retreat.
About the Artist
slowdanger, a movement/music duo from Pittsburgh, was founded by Taylor Knight and Anna Thompson.  Anna/Taylor currently create with The Pillow Project, Maree ReMalia | merrygogo, Mark C. Thompson, Jil Stifel, Jasmine Hearn, and Mario Ashkar Film.
About the CSA
The New Hazlett CSA, the first and only performance series of its kind, introduces you to the freshest, most original artists in the Pittsburgh area.  Since the seeds were first planted in 2013, the New Hazlett Theater CSA Performance Series has brought over 100 new and emerging artists to the stage. From dance to music, original plays to experimental animation, our CSA pushes the boundaries of performance at every show.