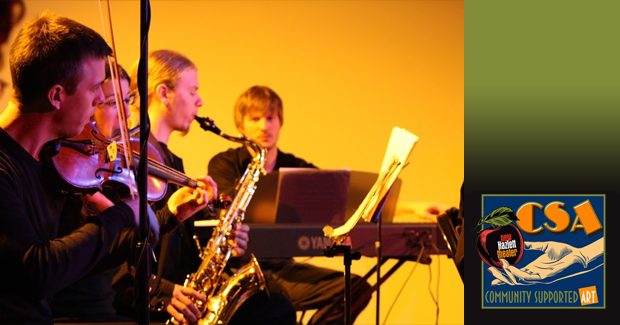 CSA Artist: Eclectic Laboratory Chamber Orchestra
Presented by the New Hazlett Theater CSA Performance Series
Saturday, April 19
8pm
The Radiophonic Fantasies of the Eclectic Laboratory Chamber Orchestra
Featuring Geneviève Grenier 
Pittsburgh-based ELCO transcends the boundaries of genre with their grassroots interpretations of pop, rock, and classical music.  In April, ELCO performs new works by composers Alan Tormey and David Gerard Matthews, written specifically for a rare and exotic instrument – the Ondes Martenot. For this program, ELCO will collaborate with the renowned Québec-based ondes Martenot player Geneviève Grenier, one of about a dozen musicians in the world skilled with this exotic instrument.
The program includes new works by ELCO composers Alan Tormey and David Gerard Matthews, as well as selections from Messiaen's Turangalila Symphony and works by the French-Canadian composer Claude Vivier and the Czech-French composer Bohuslav Martinu. Once again erasing distinctions of genre, ELCO will also incorporate their signature orchestral transcriptions of pop and rock songs, including songs by Air, Stereolab, and Radiohead.
David Matthews of ELCO – full interview from New Hazlett Theater on Vimeo.
About the Local Artists
As a grassroots ensemble performing new music, new interpretations of the standard classical repertoire, and transcriptions of pop and rock music, the Pittsburgh-based Eclectic Laboratory Chamber Orchestra (ELCO) is dedicated to transcending boundaries of genre and engaging new audiences. ELCO frequently collaborates with artists from a diverse range of disciplines, and often incorporates electronics alongside orchestral and standard rock instrumentation.
Visit the ELCO website for more information about the group.
The New Hazlett Theater Community Supported Art Performance Series is based on the farm share model of community supported agriculture.  For only $100, each New Hazlett CSA "shareholder" receives six fresh productions, delivered every other month to the New Hazlett Theater.