Work With Us
Passionate about arts in your community?  Looking to make a change … and a difference?  We're looking for people like you. We're on the lookout for a:
Shared Marketing and Outreach Coordinator

The Shared Marketing & Outreach Coordinator is responsible for supporting both the New Hazlett Theater and the Society to Preserve the Millvale Murals of Maxo Vanka (SPMMMV) by organizing marketing and communication efforts, coordinating with artists and clients, administering CRM programs, and maintaining databases, websites, ticketing platforms and social media accounts. Read the complete description here.
Lead Lighting Technician
The Lead Lighting Technician is responsible for lighting-related tasks, including inventory tracking, equipment upkeep, and serving as an electrician/lighting designer when necessary. The ideal candidate will have multi-faceted technical experience in all aspects of theater, and demonstrate a commitment to safety and safe theater practices. Read the complete description here.
Bartender
Bartenders are the life of the party, and they definitely know how to keep it going (and they also know when it's time for last call). New Hazlett bartenders are in charge of running the bar and concession stand during shows and events, as well as keeping track of the inventory, handling cash and credit cards, and all the other stuff that goes along with keeping a bar neat. Order up a full description here.
House Manager
Do you know how to handle a crowd? Have an eye for detail and a brain that can juggle three tasks and four patrons at the same time? Then you're house manager material! New Hazlett house managers are on-site for events open to the general public. You'd watch over the audience, make sure everything goes smoothly with the seating, and generally make sure everyone's safe. Like our own personal theater super-hero. Read the complete write up here.
Security Attendant
Ever vigilant protecting the people of Gotham — err, we mean patrons of the New Hazlett and helping them find parking. (Which can sometimes be as challenging as being the Dark Knight.) Security attendants perform rounds and provide directions and parking assistance to our patrons. Cape and cowl not required. They also let the rest of the staff know about any irregularities inside or outside the building during their shift. Sometimes they work in conjunction with other hired security personnel. Full write up download here.
Volunteer Opportunities
We have various volunteer opportunities available from front-of-house staffing to administrative duties. The New Hazlett also employs part-time staff on a casual basis including house managers, bartenders, and security guards. Help us create an extraordinary experience for our patrons and enjoy incredible perks of live entertainment throughout the season. Ushers must be at least 17 years of age, be able to walk up and down stairs, be comfortable standing for long periods of time, and have no fear of heights.
If you are interested in working or volunteering at the Theater please fill out this form.  Be a part of the creative heartbeat on the Northside and lend a hand.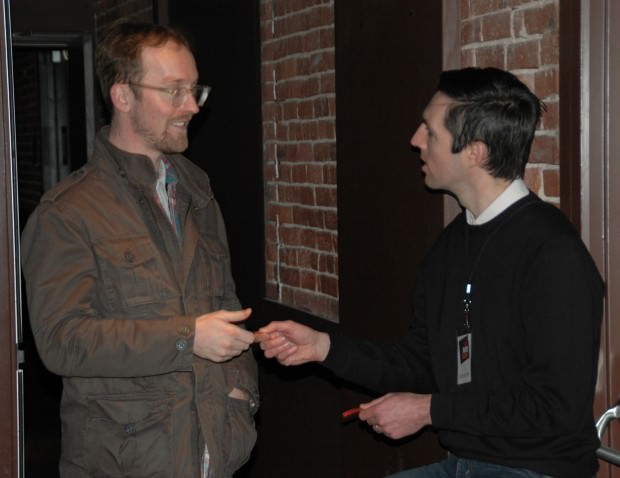 Internship Opportunities
Internships are available to college students.  We give students an opportunity to engage in hands-on professional training from New Hazlett staff, local artists and craftspeople. The Theater provides interns with training and educational opportunities that will expand their knowledge of working in professional theater. If you would like to learn more about internship opportunities at the Theater please fill out this form.