Submissions for the 2013-2014 CSA are currently closed.
We are pleased to announce our new Community Supported Art (CSA) program, an exciting subscription series that supports local artists in the creation of new work and establishes new relationships with local patrons.
The New Hazlett's CSA program is based on the Community Supported Agriculture (CSA) model, a popular way for consumers to buy local, seasonal food directly from a farmer. With the same buy-direct, buy-local spirit, The New Hazlett is launching a similar program to support local artists. Our CSA program will seek to engage a wide cross-section of arts supporters to become stakeholders in their local performance community, receiving the benefit of consistently delivered, fresh works of performance art.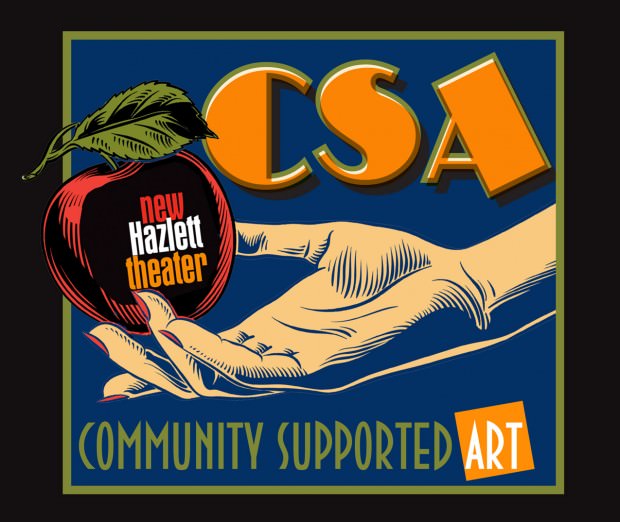 Call for Artist Proposals
The New Hazlett Theater invites emerging and mid-career performing artists from the Western Pennsylvania region to submit proposals for inclusion in the upcoming CSA performance series. Six performing artists (of any genre, including theater, dance, music, spoken word, performance art, etc.) will be selected through a competitive application process.  In addition to a stipend, the artists selected will receive one performance night in the Theater, including technicians, basic house equipment and front-of-house staff. We are interested in proposals for new work, or for existing work that is already under development.  The projects must be able to be adapted for presentation on the New Hazlett Theater's main stage. The goals of the CSA project are to provide community access to locally created performances, and to engage artists with the community in order to build relationships and develop audiences.
Guidelines

This project is designed for emerging and mid-career artists in pursuit of professional performance opportunities. Applicants must be actively engaged in the process of creating new work and be able to provide examples of original work performed within the last 2 years.
Applicants must reside in the Western Pennsylvania counties of Allegheny, Armstrong, Beaver, Butler, Fayette, Greene, Indiana, Lawrence, Washington, or Westmoreland and have intentions of remaining in the area.
Artists with commercial representation or label affiliation are not eligible to apply.
Applicants must be 18 years of age or older.
Applicants will not be ruled ineligible if they are enrolled in a post-secondary education program; however, participation in the program will require specific time commitments, which should be considered in advance of application to the program.
Only proposals submitted through the online form will be reviewed.
Applications will be accepted from all performing arts disciplines beginning on 1/14/13. Applications are due via the online form by midnight on 2/28/13.
The work sample guidelines are found below
Selected applicants will receive
A $2,000 stipend in the month of the performance date
One main stage performance date
One rehearsal day on the main stage prior to the performance day
Two theater technicians (deck hand, lighting or sound operator, etc.)
Access to the rehearsal hall during agreed upon times in the month prior to your dates
Application materials
Program and work sample guidelines